Innovation
Technology
France
REX: Bank of America Reports Encouraging Results for their Chatbot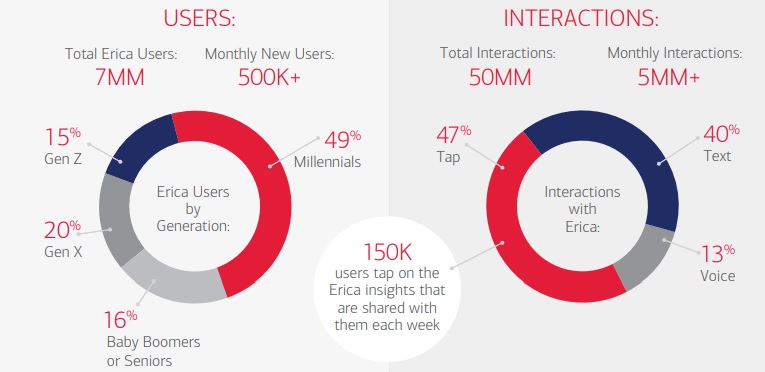 FACTS
Bank of America released results after implementing their chatbot, Erica.
This bot was launched in the end of 2016, and rolled out nationwide in June 2018.
Erica has been gaining momentum since launch:

7M users
50M customer requests completed since June 2018
500,000 new users each month
Using Machine Learning, doubled the ways in which customers can ask questions since launch

Bank of America claims that daily engagement with their solution has doubled since they added proactive insights. On average, 150,000 customers rely on these insights each week.
Types of customers by age:

15% from Gen Z (under 20)
49% Millennials (ages 20 to 40)
20% Gen X (ages 40 to 55)
16% Seniors (over 55)
CHALLENGES
Proof has been made. Bank of America proves that Erica is one of the rare virtual banking assistants to have managed to become successful, used on a daily basis by a significant number of customers.
Successful but not by pure chance. This institution soon started to bet on convenient, added value features likely to boost customer engagement, e.g.: predictive analysis applied to monitoring accounts. They also implemented substantial means to train their bot and improve its skills in handling natural language. These elements, along with an intensive communication campaign, contributed increasing Erica's popularity.
Further optimising the bot. Bank of America says that this information and collaborative work with Erica users also make it possible to further improve this service.
MARKET PERSPECTIVE
Eighteen months after the pilot version of Erica was introduced, and as other similar services started to see the day in the banking industry, Bank of America already reported encouraging results for their chatbot, even claiming over 1 million users.
Considering these results, Bank of America keeps focusing on customer retention through adding in more features. Other options are expected to launch by the end of the year to expand Erica's capabilities, including a service for notifying customers if typical expenses might take their balance below $0.