Payment
Players' Strategy
France
Boursorama Ultim: an Upmarket Offer for Free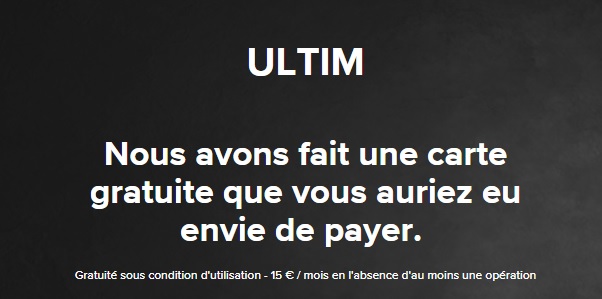 FACTS
Boursorama Banque further focuses on expanding their set of offers as they still face fierce competition. This subsidiary of Société Générale just launched a new offer called Ultim.
Main features:

A premium card for free and non-income-dependent (incl. assistance and insurance for Visa Premier card)
Transactions abroad are not charged (payments and ATM withdrawals)
Full-digital account management
Only requisite: make at least one transaction each month (or a €15 fee per month applies)
TERMS

€100 authorised overdraft
€3,000 payment limit & €920 limit on cash withdrawals
Account management & PFM tools with 850 features and 100 notifications for free
Ultim customers must provide €500 when opening their checking account
Quantified targets: 3M customers by 2021
CHALLENGES
Targeting young globetrotters. As it lets go of income-related conditions as well as of charging transactions conducted abroad, Ultim is chiefly meant for young customers interested in a service which doesn't apply foreign exchange fees.
Stressing competitive pressure. This non-income-dependent premium card for free stands out as a market first in France. Boursorama pioneers on this sector. They challenge typical institutions and neo-banking players.
Betting on customer acquisition. With this launch, Boursorama highlights one of their main goals: boosting their customer acquisition strategy at all costs. Indeed, increasing their customer bases has long been a priority for this subsidiary, be it at the expense of profit.
No longer be viewed as an alternative bank. Boursorama wants to be considered as a main bank by their customers. This accounts for the launch of a free offer which still requires customers to use the card at least once a month.
MARKET PERSPECTIVE
Boursorama isn't the only player getting involved in this industry. Just days ago, the Dutch challenger bank Bunq unveiled Bunq Travel Card. This service also features an entry-level offer with a free payment card, and it waives foreign transaction fees, too.