Younited Credit and Free Report Initial Results from their Partnership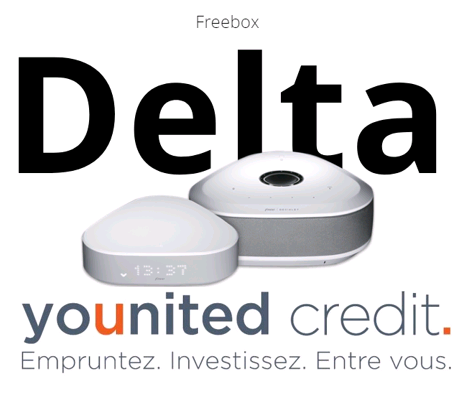 FACTS
The Freebox Delta was introduced two months ago and roughly 20,000 credits have already been granted by the financial partner Younited Credit to help customers pay for this box.
Customers may buy this box in cash (€480) or pay 48 monthly instalments if they apply for an interest-free credit line from Younited Credit.
All in all, Younited Credit claims they already granted 1 billion loans, just seven years after they were launched. Since they started aiming for international reach, and mostly European reach, Younited Credit has granted more than 150,000 loans to French, Italian, Spanish and Portuguese households. The European market accounts for 40% of their sales volumes.
CHALLENGES
White-label offers. Younited Credit helps non-banking players feature consumer credit offer via white-label products, avoiding that they should need a banking licence or have to roll out front, middle and back offices for banking operations. Younited Credit has been featuring such BtoB offers for a year. Their first customer was N26 in France.
In 2018, this BtoB offer accounted for 5% of their revenue and volumes (and they expect this proportion to reach 25% in 2019).
Bet on their partnership with Free. According Younited Credit, 20 million Free customers in France could purchase a Freebox Delta through their credit offer: which highlights a significant market potential.
MARKET PERSPECTIVE
Younited Credit

keeps growing as they aim for international expansion and focused on the BtoB sector. They intend to make profit in H2 2019.
After Italy, Spain and Portugal, they want to enter other European markets, starting with Germany.
Likewise, their range of products will further be expanded, and they may add offers for borrowing less than €1,000.
Younited Credit is also considering an IPO (by 2021). Meanwhile they have been attending Tech Share, an initiation to Euronext financial markets.