Sabadell Trials Face Recognition for Seamless Payments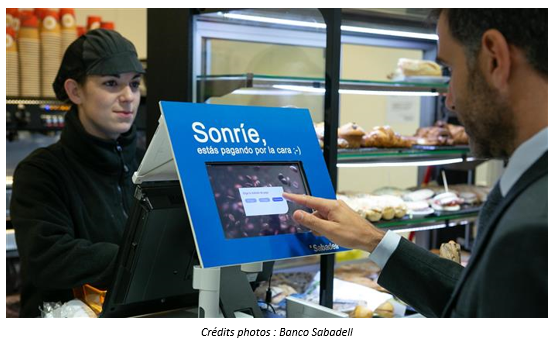 FACTS
The Spanish banking player Banco Sabadell tests a face recognition-based seamless payment prototype with help from some of their employees.
Goals: streamlining and speeding up transaction processes to improve customer experience.
How it works: The user does not need to upload and install a dedicated app. He signs up on PC or mobile –if equipped with a camera– to rely on this feature. Once the required data specified and applicable GTU approved by the customer, a picture is taken, encrypted and paired with his account. In-store, he only has to face the payment terminal at checkout to validate his payment.
CHALLENGES
Besides enhanced speed and easier transaction execution, the Spanish group explains they intend to provide merchants with a means to analyse their customers' behaviour and purchasing habits. They also have access to another communication channel as the checkout terminal can display additional contents.
This technology might entail outstanding challenges as to protection customer data and potential concerns as regards to individual liberty. More pilot phases are, however, seeing the day within specific legal frameworks and resorting to plain and clear communication efforts to improve customer adoption.
From a technological point of view, Sabadell also opts for a learning/adaptive system able to adjust to potential changes in the users' appearance (make-up, ageing process, etc.).
MARKET PERSPECTIVE
The pilot phase started on December the 11th in roughly 100 cafeterias from the group's campuses in Sant Cugat del Vallès, Madrid and Alicante. More than 200 users took part in the experiment scheduled to take place until the end of January.
Just a few months ago, BBVA rolled out an invisible payment solution, first enabling their employees in Madrid to pay for food and drinks without having to pull out their card or their mobile phone.
Banco Sabadell relies on a similar strategy and bets on a global evolution now impacting the retail sector: dropping the checkout step and relying on more seamless, mobile customer processes, involving no waiting time.