BBVA Trials an "Invisible" Payment Solution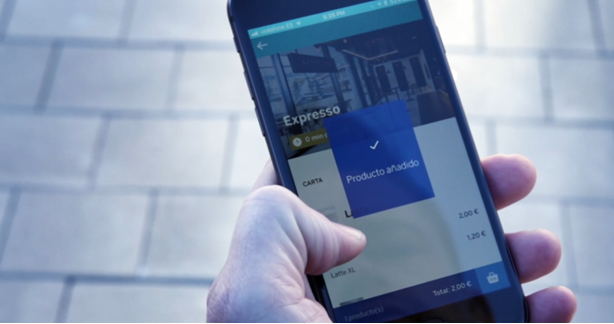 The Spanish group pilots a prototype "invisible" in-store checkout system with help from their employees in Madrid. They may now pay for food and drinks without having to wait in line, pull out their card, or their mobile phone. The idea is to streamline customer experience as much as possible.
BBVA "Order-ahead" app has been installed by roughly 1,000 of their employees. It has been developed in partnership with Sodexo Iberia so users can schedule their favourite orders at Ciudad BBVA campus cafeterias, and pay for it without even taking out their phone.
Customers may register in-app and specify their card details. The transaction amounts are then directly debited. Waiters only have to verify the order and validate it. Besides preorders, they can also book tables at one of the partner restaurants, or split bills with other users via sending a message through the app. Eventually, this tool embeds a loyalty feature letting the user access discount offers.
BBVA plans to include a biometrics-based, image recognition option in partnership with their Joint-Venture, Veridas. This solution relies on Machine Learning and is meant to identify people as well as the items they add on their tray. This would make it possible to automate meal payments, making transactions "frictionless" at the group's self-service canteens.
Comments – Enters the era of "zero click" payments
"Zero click payment": this is how BBVA calls their frictionless service, aiming to actually make the payment step "disappear". So-called invisible payment solutions have started to hit the market a few years ago (Square, Google, PayPal were among pioneers) but haven't yet managed to really meet their audience, save for the Amazon Go tech-savvy cashierless store. BBVA is the first banking group to make room for this trend, and already reports encouraging uptake on the part of their employees. An initial test phase was conducted for a month, and the app has been downloaded by 15% of their employees in Madrid. The bank also reports 10% of the orders made on Expresso (one of BBVA's most frequented shops) were made via the app.
The bank recorded a 50% increase in average order amounts. For now, the service has been made available for the catering industry, but BBVA is planning additional partnerships to eventually apply their "invisible" payment concept to other sectors. Various contexts are considered (fast-food industry, self-service, tableside service) and several options (split bills, pre-orders, preferred orders, etc.). This stresses the fact that this institution has already been giving serious thought to this concept.