Credit
Innovation
Russian Federation
Yandex Adds Installed Payments for E-Purchases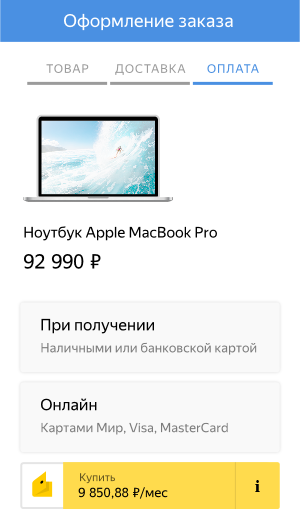 Yandex.Money –Russian equivalent of PayPal– introduces an API enabling e-merchants to propose installed payment plans through Yandex.Checkout, their integrated payment solution. For merchants, this feature guarantees an immediate payment, while improving conversion rates and further asserting the loyalty of customer segments with limited budgets.
This credit service, called "Pay in Parts", is launched in partnership with the Russian FinTech PayLate, which specialises in online lending offers. A "Pay in Parts" button will be displayed next to the products on partner merchants' websites, along with the associated payment terms and conditions.
At checkout, interested customers will have to fill out a form in Yandex.Checkout. They are sent an answer in a matter of seconds. Then, their order is confirmed through specifying an SMS-sent code. Their monthly instalments are automatically debited from their Yandex wallet.
Yandex Payment Solution's e-payment system has attracted more than 25 million users and keeps growing significantly: +15,000 additional accounts each day. This new feature will be made available to 76,000 merchants who already integrated Yandex.Checkout.
Comments – Credit offers gaining momentum on payment platforms
According to Gfk RUS and Yandex Market, 64% of the Internet users in Russia say they are likely to fall for impulse purchases. However, some have limited budgets and then have to drop their shopping cart. Yandex.Money tries to solve this issue. A study by Mediascope shows that 66.3% of the Russian consumers are using e-wallets and 40% of these people have opted for Yandex.Money. This consideration led Yandex to aim for diversification through implementing Yandex.Checkout.
Yandex intends to fight cart abandonment and improve customers' activity as it has become a pain point for e-merchants. Just like this Russian group, other market players have been paying attention to similar aspects, including Amazon, Affirm and PayPal (whose work on consumer credit is still ongoing). These companies are all the more likely to make room for credit services that they remain critical to establishing a lasting business model as pressure weighs on cutting down transactional costs.