When an NFT marketplace accepts classic cards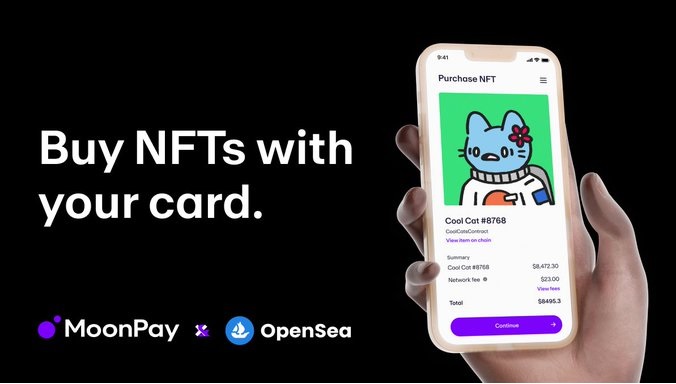 The American marketplace dedicated to NFTs, OpenSea, has just announced that it will now accept more traditional means of payment to allow Internet users to buy crypto-assets. It is thus moving away from dependence on crypto-currencies and, above all, working towards the democratisation of non-fungible tokens (NFTs).
FACTS
OpenSea announced its partnership with MoonPay, a specialist company providing infrastructure for developers. It allows them to accept credit cards directly, to validate the purchase of crypto-assets.

This partnership leads to the integration of MoonPay's solutions into the OpenSea platform. More than crypto-currencies, MoonPay's solution will therefore allow the direct purchase of NFTs, without necessarily going through the previously mandatory phase of converting assets into crypto-currencies.

OpenSea's customers, who buy NFTs, will no longer be required to hold crypto assets to buy NFTs. They will soon be able to pay directly on the platform with their MasterCard, American Express or Visa cards, or their Apple Pay or Google Pay wallet.

The functionality will be rolled out in phases, first to selected users and then gradually to all users of the OpenSea platform.
CHALLENGES
Participating in an evolution already underway: Payment cards that allow the purchase of NFTs are an innovative concept, but not a new one. MasterCard was already positioning itself in January with a similar solution, in partnership with Coinbase.

Democratising NFTs: MoonPay announced its diversification into NFTs last January. Thanks to it, OpenSea is taking a step ahead by not remaining dependent on the democratisation of solutions offered by specialists. The platform is opening up widely to allow more Internet users to enter the NFT market, gaining many new potential customers in the process.
MARKET PERSPECTIVE
The NFT market is still very young, but it is already attracting historical financial services players. Anxious not to miss out on the crypto-asset trend, more and more of them are positioning themselves.

However, it is the American scheme Visa which recently took a lead in terms of atypical positioning, by launching a new programme entirely dedicated to NFTs. Visa said that it saw this market as a new and growing e-commerce area. Visa also made headlines last August when it bought an NFT CryptoPunk.

OpenSea is already one of Time's 100 most influential companies, and its efforts to democratise NFTs should help it retain this position.