Payment Card
Payment
United States
Venmo Payment Card Launched (Eventually)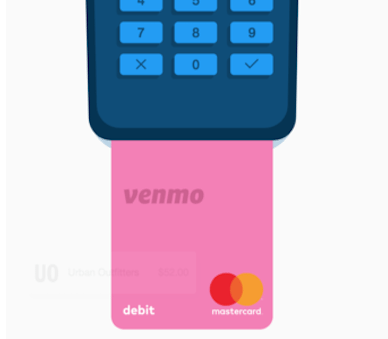 Just like their direct competitor Square –whose first prepaid card was introduced a year ago– Venmo launches a debit card in addition to their app: beyond mobile P2P payments, they can then address retail transactions. This US payments industry giant sees this service as a means to diversify and add value to their existing P2P payment feature.
After several months in Beta –initially with Visa– Venmo selected Mastercard for the official card launch. The Venmo card issued by Bancorp Bank will allow customers to pay for purchases from Mastercard-affiliated merchants (online and in-store).
Venmo wallet users can now spend their account balance without having to transfer funds. Their card allows them to withdraw cash from Mastercard ATMs at no extra cost. Other ATM transactions are charged $2.50. These withdrawals are limited to $400/day. Their Venmo account can also be credited automatically via using another card if their balance is insufficient.
The Venmo card can be managed in-app for activation, PIN reset and deactivation processes (if lost or stolen). All payments are displayed in real time in their transaction history, and can be shared via a Venmo social feed. For now, a limited version is available in the US only.
Comments – PayPal still sees big
PayPal recently unveiled a current account for underbanked customers. They keep expanding their set of services through relying on their P2P payment platform. They released their financial results for Q1 2018 a short while ago, highlighting that Venmo processed $12 billion this quarter (+80% vs Q1 2017). The new card offer is in line with the group's strategy as they intend to boost Venmo's business model this year. Also, they once again stress their interest in addressing face-to-face transactions.
Besides, this launch is a way for their subsidiary to challenge Zelle, the US interbank transfer service which claimed they outrun Venmo in terms of transaction volumes as early as in the beginning of 2017. This banking initiative wasn't the first to tackle this competitive issue: Square unveiled a debit card for their P2P transfer Cash App, too.