Mobility
Payment
Switzerland
TWINT Partners with evpass on Electric Car Recharging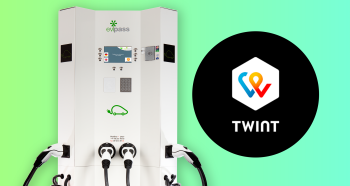 FACTS
TWINT, mobile payment app by Swiss banks, has been added by evpass, the largest electric car charging network in Switzerland.
Goals: make car charging easier for drivers unwilling to pay by card.
evpass was launched by Green Motion, local manufacturer of car charging stations.
Car charging services can be settled via different means of payment including evpass accounts, Swisspass, text message, or via Apple Pay (NFC).
In addition to money transfer, TWINT features cashless options for the e-commerce sector, in-store checkout and the retail industry.  
How it works

The customer connects via Bluetooth and opens the app
With his smartphone he scans a QR code on the TWINT Beacon to make a payment
TWINT: Key figures

1.5M users
73 partner banks
100,000 stores
3M transactions/month
CHALLENGES
Optimise customer process. TWINT still aims for diversification and crafting an optimal customer process. Their ability to handle multiple means of payment is key to their value proposition, helping them attract more customers and ensure a more transparent customer experience.
More partnerships. TWINT keeps making progress in Switzerland through relying on partnerships. A few months ago, Nespresso added this means of payment for their online and brick-and-mortar stores. Green Motion is now among partners having opted for this payment solution. More than 12,000 users charge their vehicle at evpass stations each month, which should contribute to boosting TWINT's adoption levels.
A payment method for various mobility services. TWINT is one of the main payment methods for mobility service providers. The local railway operator CFF included this option in-app, online and on their kiosks. The BLS, Fairtiq and other private railways also signed up for TWINT. And nearly 80,000 car parking spots can be paid for with this wallet.
MARKET PERSPECTIVE
Earlier this year, TWINT settled a complaint they had filed against Apple. An agreement was found and TWINT could avoid that the American brand should prevent their payment method from being used.
More payment solutions meant for car charging stations are seeing the day. The car parking payment app EasyPark recently announced they were expanding their electric car charging service in other European markets, including France.