TotalEnergies launches the Mobility Corporate Card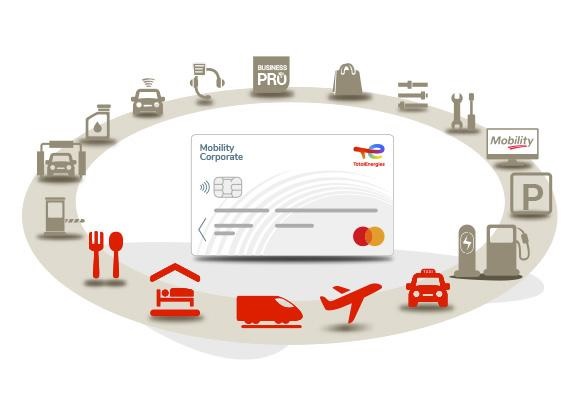 TotalEnergies has teamed up with MasterCard to launch a Mobility Corporate Card dedicated to managing mobility expenses for professionals. The offer covers a wide range of travel-related expenses, with or without vehicles.
FACTS
Traveling professionals can now benefit from a new service to manage their expenses, in the form of the Mobility Corporate Card.
Target: small, medium and large companies.
The Mobility Corporate Card is an international payment card that can be used to pay for all expenses related to a business trip:

fuel costs or electric recharging, parking, tolls, car washes, stores in the TotalEnergies network, hotels, restaurants, car rentals, cabs and car maintenance.
In addition to Total's own stores, it can be used at the Group's partners and at all merchants affiliated with the MasterCard network.
Corporate customers can order several cards and assign them to their employees. All expenses incurred by the latter will then be debited directly to the company's account.
Each card can be set up in real time:

categories of expenses accepted,
geographical scope of functionality,
maximum limit...
The employee who is the beneficiary of the card has a mobile application to follow his authorizations and expenses at any time.
KEY FIGURES

7 universes of professional mobility expenses in the Mastercard network: hotels, restaurants, travel, public transport, car rental, cabs, car maintenance
Mastercard acceptance points in 210 countries
2 usage channels: online or in-store (with or without contact)
120,000 electric charging points in Europe
17,000 TotalEnergies service stations and partners in 17 European countries, including 3,500 in France
1,085 car washes
1,600 partner parking lots
CHALLENGES
Facilitate expense management: The Mobility Corporate Card covers all expenses related to business travel and automates the process thanks to its configurable options and its direct link to the company's account. There is no need for an additional tool to track expenses, the card itself and its associated application facilitate their processing to the maximum.
A new offer that embodies a genetic change: By changing from Total to TotalEnergies, the group underlined its desire to become a multi-energy group. In the press release, it even says "a major player in mobility". However, this offer is a hybrid offer that covers a whole universe of services related to business expenses, which is quite characteristic of the strategic changes that are taking place in companies to build new offers on the model of an ecosystem of services that revolve around the needs of customers.
MARKET PERSPECTIVE
To manage the business expenses of its corporate customers, Volkswagen Financial Services recently introduced a new service called VW FS Business Travel. The program includes a multimodal hotel and transportation reservation tool combined with an expense management service.
Total has chosen to address the issue of mobility and to offer a complete service for managing business expenses while on the move, using a simple payment method.