Tencent Selling Loans through Video-Streaming Platform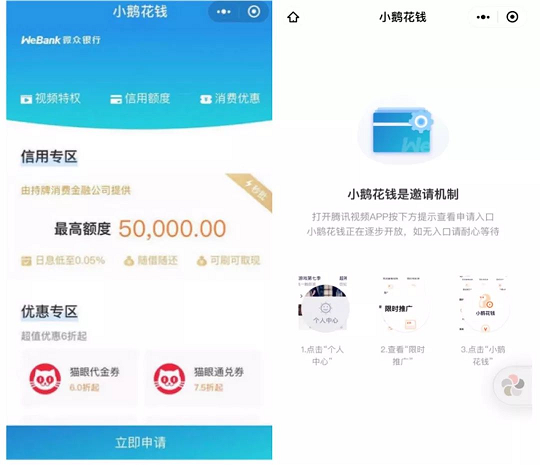 FACTS
WeBank, digital bank by Tencent, introduces a new lending offer available from their video-streaming platform.
This solution called Xiao'e Huaqian features short-term loans (under a year) up to 50,000 yuan (roughly €6,400).
Xiao'e Huaqian is invite-only, and available to a limited number of Tencent Video users.
According to Xinliu Finance, its users have been granted loans between 2,000 (€258) and 7,000 yuan (€904) on average, half of these loans have been used for digital transactions via WeChat.
TENCENT: Key Figures

97M subscribers for Tencent Video in Q2 2019
3 investors for Xiao'e Huaqian: Home Credit, Industrial Consumer Finance and Bank of Beijing Consumer Finance Company
CHALLENGES
Winning ground o the Chinese financial market. This launch would enable Tencent to feature additional financial services to customers, from their video platform, and expand their reach on the Chinese market. The point may also be to challenge Ant Financial, subsidiary of Alibaba, whose payment platform, Alipay, has been hosting lending services such as Jiebei.
Improving financial inclusion rates. WeBank claims more than 100 million customers, including many people who used to be unbanked. They process over 300 million transactions each day. To achieve this goal, WeBank is built on a full-digital model and highlights 3 key elements:

A simple and customisable offer,
Far-ranging coverage and low customer acquisition cost (thanks to their digital approach),
An alternative scoring system exploiting data they process, enabling them to address customers without a banking history.
MARKET PERSPECTIVE
This is the second consumer lending product launched by WeBank. They were granted a banking licence in December 2014. Their first lending service was unveiled four years ago, initially via the instant messaging app QQ, then via WeChat app with Weilidai. Besides, Tencent still plans to launch a payment service (called Fen Fu, for now) by the end of the year.
In Q2 2019, Tencent reported 22.9 billion yuan in earnings (roughly €3 billion) for their B2B-oriented services (+37% year-on-year). This unit has been growing faster than other divisions (including online content and gaming).