Subscribing to a Used Vehicle for Lease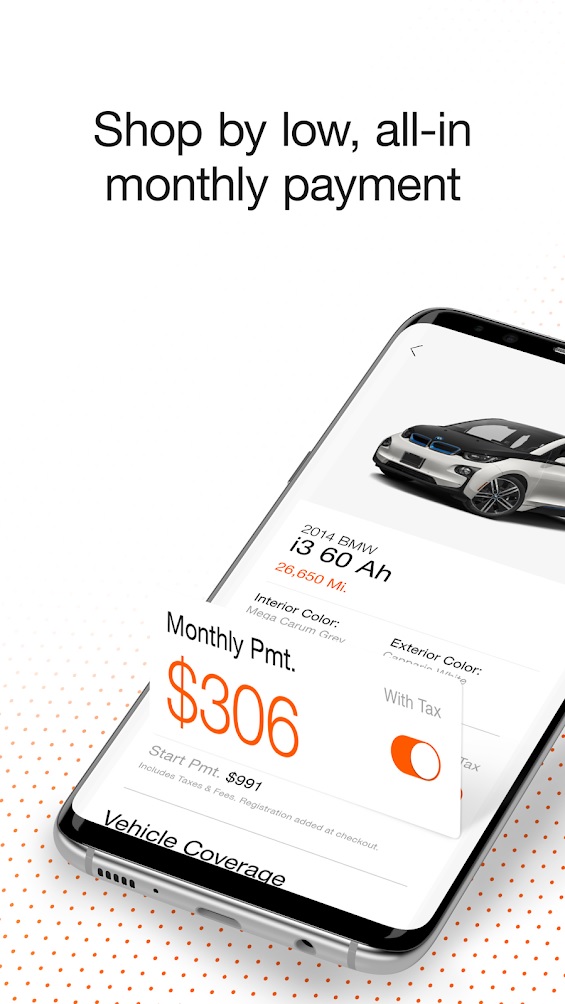 FACTS
The American automotive retailer AutoNation teams up with the Californian start-up Fair, which features non-binding leasing offers for second-hand cars.
AutoNation sells new and used vehicles across a network of 300 car dealerships. Their customers may now choose a second-hand car, and have their score qualified by Fair. They pick up the car at one of the partner car dealerships and bring it back at any car dealer to close their contract.
Customer process:

Fair's subscription package comes with routine maintenance, limited warranty, and roadside assistance. Once the vehicle selected, the customer may also subscribe an insurance (including extra miles or excess wear-and-tear protection). He scans his driver's licence from mobile app for his profile to be scored.
Upon signing the contract, Fair requires a Start Payment from the customer to cover service use and flexibility. The following monthly payments are lower, they only cover the leasing service.
The customer has up to 3 days after signing to change his mind and bring the car back for a full refund of his Start Payment. Beyond 3 days, this Start Payment becomes non-refundable. He may then end his leasing contract at any time and bring the car back at any AutoNation dealership. 
CHALLENGES
Attracting younger customers: Fair stresses their ability to target Millenials, via a mobile app to streamline the financing subscription process, and a non-binding subscription option.
Driving customers in car dealerships: AutoNation aims for this goal and gain a new sales channel for its vehicles.
MARKET PERSPECTIVE
AutoNation just invested $50 million in Vroom: an online platform for selling used cars. Their partnership with Fair matches their strategy as they intend to focus on a digital approach and feature flexible offers.
Fair's subscription option stands out compared to car manufacturers' typical offers: Volvo, BMW or Cadillac, for instance, opted for higher-end market positioning, with very high monthly instalments to make up for the management cost of introducing flexible contracts.
Fair: Key Figures

- Fair was founded in 2016 in California

- $1 billion in funding since launch, including from BMW and Daimler

- 2,900+ partner car dealerships in the US
Video: https://www.youtube.com/watch?time_continue=15&v=0Bm2ooPWrcE