REX: LeasePlan Challenges Car Makers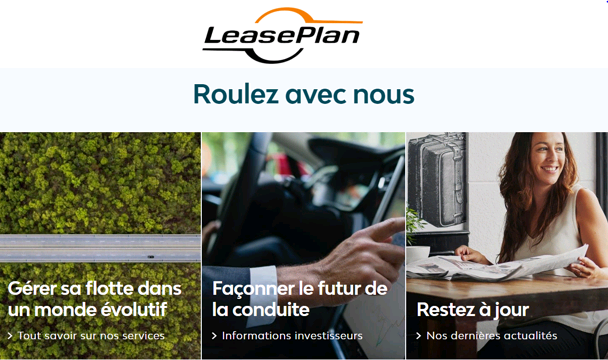 FACTS
Through their French subsidiary, the leading car fleet manager LeasePlan made several announcements early this year for the sake of building more competitive offers on the market for long-term car rentals, i.e.: for used and new vehicles.
Their individual customers now have access to maintenance services not from a network of car manufacturers, but from independent car maintenance partners (Midas, Norauto AND Euromaster).
For now, the cost of their maintenance contracts stays unchanged, but additional services are featured (temporary vehicle, on-site car repair, etc.).
Besides expanding their set of offers, LeasePlan claims they made progress in the long-term car rental market in 2018. The group handled leasing contracts for 133,901 vehicles and 13,000 customers.
CHALLENGES
Stress their expertise and network of partners to address individual customers' needs with their long-term leasing services for both new and used cars. After rolling out long-term rental options for new cars and addressing corporate customers, this car fleet manager aims for individual customers, too: more competition for large-scale manufacturers.
They teamed up with Macif, as financial partner, to craft MACIF C'parti, a long-term leasing option for individual customers, which could eventually attract 1 million customers. They report 1,000 deliveries in partnership with Macif for 2018, and another 1,000 through their Privilease offer for their customers' employees.
LeasePlan started including rental services for used cars in 2018 with their CarNext brand, which is currently available in 5 points of sale in France (Maurepas, Chambourcy, Corbas, Vénissieux and Cesson-Sévigné).
Over time, they intend to sell more second-hand cars to individual customers via both brick-and-mortar locations and their online channel, where 1,000 cars are showcased.
Aiming for SMEs. According to LeasePlan, 80% of the companies have not yet been convinced by long-term rental options. LeasePlan also aims for another million employed people, i.e.: their customers' employees without a company vehicle.
Special focus on electric cars. A partnership is in place with Allego to sell car charging solutions for customers' homes and work places, as well as an invoicing system.
Also, a partnership with the Chinese manufacturer SAIC should be announced this spring by way of increasing sales for the utility vehicle Maxus EV80 in Europe. This should result in making 500 electric cars available in Paris, using a model similar to the one applied by ridesharing companies.
MARKET PERSPECTIVE
As they aim for car rental markets for used and new cars and try to address individual customers' needs, LeasePlan also enters a market which used to be mostly led by car manufacturers in France.
In addition, they are planning to launch a full-digital process in the months to come: displaying prices to delivering vehicles to customer companies' premises (to start with), and (later on) to individual customers' homes.
In order to fuel this market expansion, this Dutch company also plans to announce yet another partnership with a major French bank in the coming months. New offices should also be opened in the Paris region.