Innovation
Blockchain
Payment
France
REX: C-zam, Slower Uptake a Year Later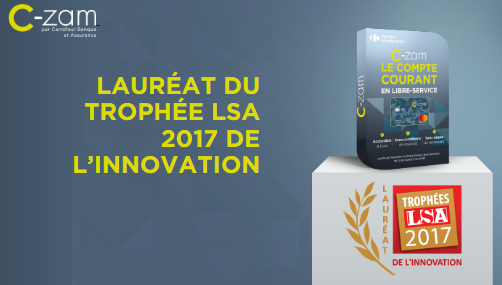 In March 2017, the retail group Carrefour entered the market of financial services as they unveiled their C-zam payment account. One year later, and after an encouraging start, fewer customers now subscribe… This shows how challenging it is for offers like these to attract new customers in France: in fact, many retail banking services have already been launched.
Mid-February 2018, C-zam claimed 115,000 customers. This offer is described as the first payment account proposed for subscription (as a self-service option) by a retail chain. According to the chief executive for Carrefour Banque et Assurance, these reported results are in line with the group's expectations.
This opinion can be accounted for by the fact that C-zam's customer base includes roughly 75% of users who had never subscribed a financial offer from Carrefour Banque before. C-zam would then act as a prospecting lever for their financial activities in general.
This service was initially aiming for younger customers mostly, but only reports 30% new customers under 30. Their target is then broader than expected. Two main use cases stand out: day-to-day payments (this solution is designed to be far-ranging) and occasional uses (e.g.: customers on holiday, since no fees apply on international transactions).
Comments – C-zam: focus on quality rather than on quantity
Novelty, attractive promise, media coverage at launch, etc. are as many factors that can explain why Carrefour's offer experienced such a promising start. In six months it had already attracted roughly 90,000 customers. Yet, almost one year after this official launch, fewer customers subscribe. C-zam only added 25,000 additional customers the following four months. Carrefour does, however, report relatively high use rates: 40% of its subscribers actually use C-zam every day; Revolut, for their part, recently reported that 25% of their customers used their service daily. Also, C-zam customers make 17 transactions per month on average. These essentially active new customers come in addition to Carrefour Banque's 2.5 million existing customers. This could lead to positive synergies.
Regardless, this retailer still has to face competition from many other neo-banks, including Orange Bank, Morning, Compte-Nickel and Revolut, for instance.
The issue of transparency. Beyond competition, the increasing number of offers causes much confusion. Consumers still have trouble understanding the difference between full-fledged banking offers (Orange Bank or N26, for instance), and payment accounts with their companion card (C-zam, Morning, Revolut). This market will need to grow more structured, and more transparent to reach out for additional customers.