Money transfer
Payment
Europe
Real Time Transfer: Visa Teams Up with TransferWise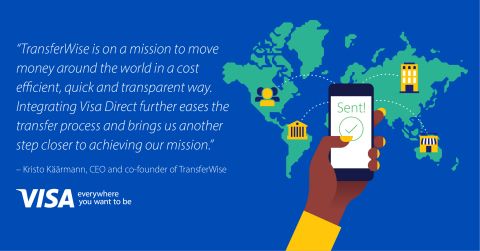 FACTS
TransferWise –British money transfer specialist– teams up with Visa.
Goal: simplify cross-border transfer processes in Europe.
Through Visa Direct –Visa's real-time push payment platform– TransferWise will be able to feature instant international money transfer services for individual and corporate customers based on Visa debit cards.
The point would be to provide them with a 24/7, fast and secure process.
Visa Direct processed more than two billion transactions in 2019. They are currently working with several financial institutions and technological partners including EMQ, MoneyGram and Remitly to roll out their real-time cross-border payment service more globally.
This new option will first be available in Spain. It should later on launch in the UK, in Hungary, in Czech Republic and in Bulgaria. TransferWise plans on further working with Visa in 2020 to expand their joint offer across Europe and globally.
CHALLENGES
Real-time options: a must-have. Acording to a study by Visa, 60% of those surveyed believe that faster access to the amounts they are sent is an advantage. As regards to corporate customers, 85% of the SMEs confirm they probably would change to another merchant acquirer if real-time payments were among options.
Strategic asset. With Visa Direct, the US giant says they intend to provide customers and businesses with more convenient means to access transferred amounts. Visa deems that the challenge would to implement a single connection point for thousands of financial institutions and billions of PÖS devices worldwide.
For TransferWise, this service is an additional means to provide their customers with more flexibility and control.
MARKET PERSPECTIVE
Vis has been unveiling more cross-border payments-related projects over the months. In January 2019, they acquired Earthport: FinTech providing banks, transfer operators and businesses with cross-border payment services, through the largest independent automated clearing and settlement network in the world.
Visa has since announced more partnerships on rolling out Visa Direct, including with another transfer company, i.e.: Western Union. And in July 2019, they teamed up with PayPal, enabling consumers and SMEs in Canada to have faster access to the amounts they are sent.