QuickBooks moves into cash and payroll advance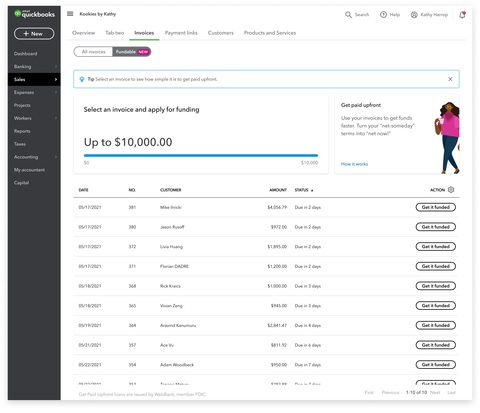 Created in 2017, QuickBooks is an accounting and invoicing software published by the American company Intuit. This new generation of digital accounting players are now blurring the line with the banking world, so intertwined are these activities. Quickbooks is taking the plunge by offering two new credit products to its customers, among the most popular among neobanks.
FACTS
QuickBooks now offers two new services:

QuickBooks Get Paid Upfront, which will allow eligible small businesses to access cash advances to get pre-paid for pending invoices, up to a limit of $30,000. A flat fee of 3% is applied per invoice funded. No interest is charged on repayments within 30 days. Funds are available within 30 minutes through a QuickBooks connection to its customers' bank accounts.

QuickBooks Early Pay, which will allow employees of QuickBooks' small business customers to access salary advances within 1-2 business days. The advance payments are recorded online in the QuickBooks software, at no additional cost to employers.
KEY FIGURES

QuickBooks processed $91 billion in payment volume in 2021

1.5 billion in invoices are created in QuickBooks each year

QuickBooks Capital has facilitated over $1 billion in small business loans since 2017
CHALLENGES
Boosting its offering: As a BtoB service provider, QuickBooks needs to add to its offering regularly to justify its role as a partner to businesses. In addition to credit, with its cash advance service, QuickBooks helps its customers to boost their HR policy and brings added value to its support.

Addressing an intractable problem: According to Intuit, small businesses wait an average of 29 days to be paid and 64% of them have unpaid invoices after 60 days. This reality justifies the launch of QuickBooks Get Paid Upfront. And to legitimize QuickBooks Early Pay, Intuit points to the fact that nearly 40 percent of Americans say they would have trouble paying an unexpected $400 emergency expense.

A player in open banking: The launch of QuickBooks' new service is part of its growing model of open financial services, straddling administrative, accounting and banking functions. The history of QuickBooks has been marked by the launch of several initiatives in this direction, relating to credit and more recently to payments.
MARKET PERSPECTIVE
Corporate finance is the major fintech trend of the moment. Many fintechs are launching automated processes to help companies, especially small ones, to release financing or payments more quickly, such as the French company Defacto or the German start-up Topi.

Payday advances are also a new and very popular offer in financial services. So much so that some neobanks are using it as a marketing argument to develop their appeal.

The trend towards integrating banking and accounting for professionals has grown in recent years. QuickBooks is part of this trend, along with other pioneering players such as Qonto, which has set its sights on Open Banking by 2020 by developing its APIs for connection to accounting software, and Fintecture, which has teamed up with Pennylane to simplify bill payment.