Paypal unveils its "E-commerce Index" study and deciphers the online shopping trends of European consumers.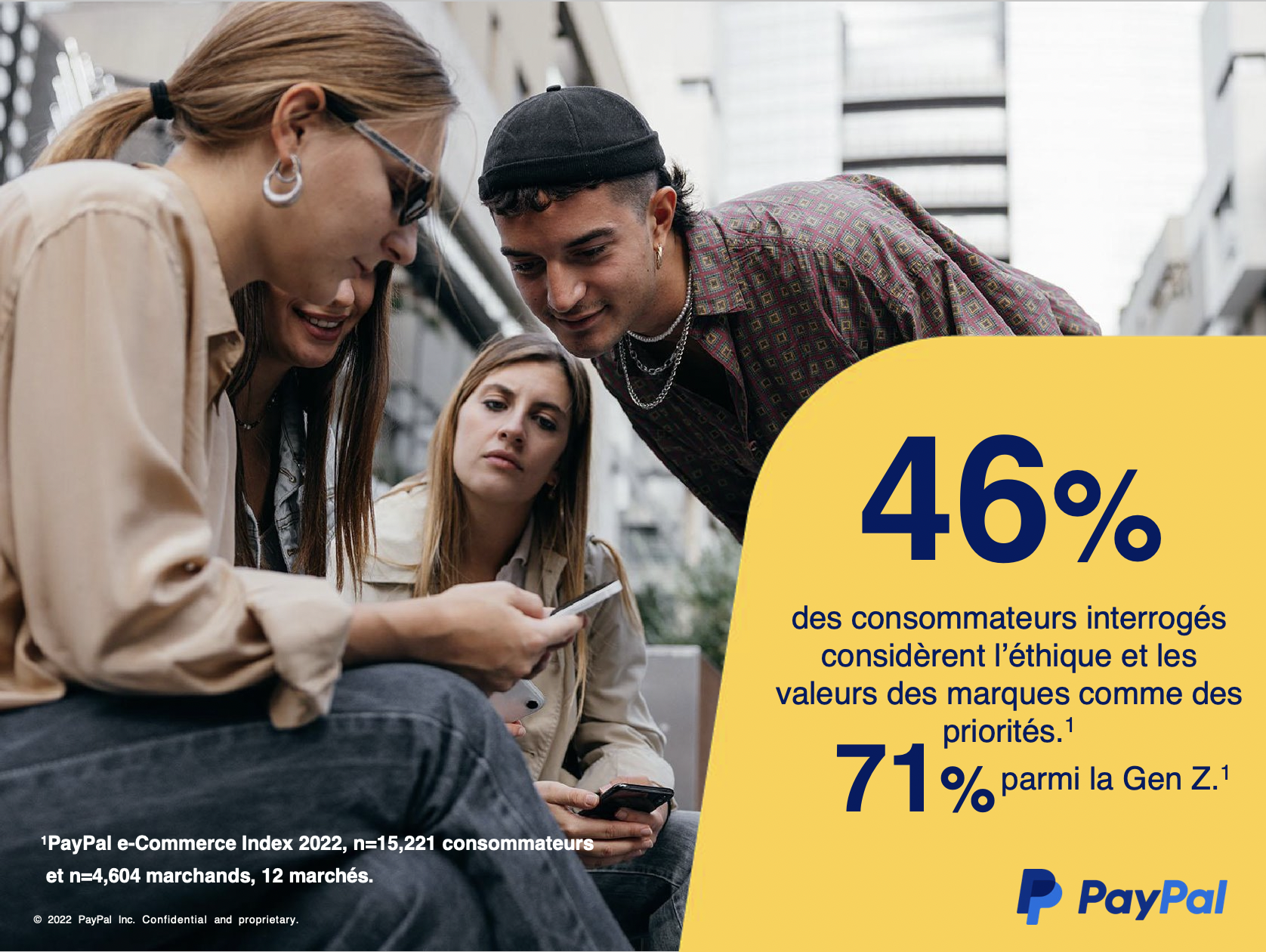 PayPal unveils today its E-commerce Index study which deciphers the trends in online commerce: new payment methods, recommerce, social commerce, cryptocurrencies or metaverse, e-commerce is going through profound changes. These changes are driven by profound shifts in consumer habits in Europe and around the world, as revealed by the E-commerce Index, which takes stock of these new trends in e-commerce in France and Europe.
FACTS
Paypal's E-commerce Index was conducted by ACA Research from 15 June to 22 July among more than 15,000 consumers, including 2,043 in France, and 4,600 businesses, including 405 in France.

E-commerce is experiencing an unprecedented 13% increase in comparison to 2021, reaching 718 billion euros in Europe according to Fevad.

In this study, France is in last place: only 47% of French people say they shop online at least once a week, compared with 59% in Germany and 78% in the Netherlands. Dutch consumers have an average shopping basket of 270 euros per month.

The main lessons to be learned for France :

Ethics: for 46% of consumers, the values and ethical approach of brands motivate their decisions. This figure reaches 71% for Gen Z.

Security: 66% of French consumers have abandoned an online purchase before payment (64% in Europe on average), a trend that is particularly pronounced among Gen Z (81%).
CHALLENGES
Ethics and values displayed by brands: In Europe, almost half of consumers turn to brands that are in line with their values. In France, 46% of respondents and 71% of Gen Z say they are motivated by a brand's values and ethical approach in their purchasing decision. These values include employee working conditions for 29% of consumers, respect for the environment for 27%, social causes for 23% or diversity and inclusion for 18%.

The importance of social commerce: While traditional channels are still widely favoured by consumers, social commerce is becoming an increasingly important part of the shopping basket. Nearly half of European consumers (43%) say they have purchased on social networks in the last six months. In France, 41% of consumers made their purchases via Facebook (for 18% of respondents), Youtube (16%) or Instagram (15%). Clothing and accessories are among the most purchased products (29%), followed by beauty products (20%), online ticket purchases (20%) and online games (18%).

Split payment: Split payment appears to be more widespread in France than in other European countries. This solution is widely favoured by Gen Z: 42% of them say they use it to finance their average shopping basket of 200 euros per month. These purchases are mainly made up of clothing and accessories.

The emergence of the Web3 and its possibilities are helping to shape the new contours of online commerce. According to the E-commerce Index, more than one consumer in ten (13%) believes that virtual spaces and the metaverse will become important channels for online commerce. 15% of French people have already been to a metaverse and this figure rises to 40% when it comes to Gen Z.
MARKET PERSPECTIVE
Although the trends are similar across countries, there are some specificities.

In the UK, TikTok is becoming the search engine of choice for the generation. It is also gaining popularity among shoppers aged 18-25, with almost half (48%) making a purchase via the platform.

Also in the UK, the economic impact of the pandemic and a sudden sharp wave of inflation are contributing factors driving international shopping - with access to better prices (35%) and products they can't find locally (31%) cited by international shoppers as the main reasons for shopping outside their home country. The study shows that almost a third of people (62%) now buy from abroad and a fifth (21%) of consumers who buy online come from retailers based outside their own country.