Players' Strategy
International
Whatsapp seeks new horizons with Business search feature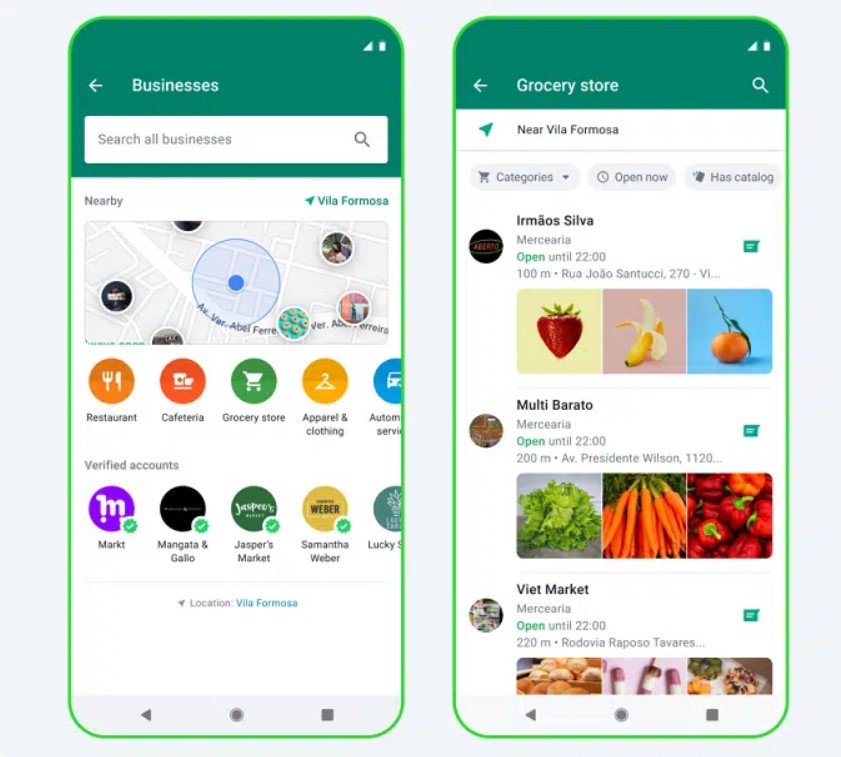 Following on from an initial opening of Whatsapp with Jiomart to make it a true e-commerce platform, the messenger is now launching a new feature in selected countries that allows users to search for businesses, contact them and make purchases without ever having to leave the app.
THE FACTS
As a reminder, whatsapp had launched in August last year, a first end-to-end shopping experience on WhatsApp that allows people to add products to their shopping cart and pay to make purchases, all without leaving the app.

This experience was launched in India with the JioMart catalogue in India, which has become a key market for Meta. WhatsApp is used by over 550 million Indian consumers

At the first-ever WhatsApp Business Summit in Brazil, Meta CEO Mark Zuckerberg announced a new update that will allow WhatsApp users to search for businesses - by category or by name - directly in the WhatsApp user interface.

Specifically, the search feature includes:

A mini-map to view nearby businesses;

Category filters and verified business accounts, which will make it easier to access the different purchase options in the app.

This new feature will also allow products to be purchased via secure payment directly from a chat with a credit or debit card.

This new option is open to users in Brazil, the UK, Indonesia, Mexico and Colombia until now. From these, only users in Brazil can search for SMBs (small and medium enterprises) in their own neighbourhood, as search capabilities in other countries are limited to large brands.

WhatsApp has not yet provided a date when users in other countries will benefit from the feature.
CHALLENGES
Monetising the app: The new features highlight WhatsApp's growing attempts to turn the giant messaging app into a commerce engine, one of its biggest bets to generate revenue from the otherwise free service. The company revealed in its quarterly results last month that the click-to-WhatsApp ad business had grown 80% year-on-year and was on track to generate $1.5 billion in annual revenue.Meta has already signalled its intention to maximise commercial opportunities in messaging, including Click-to-Message ads and other direct connection tools.

Connecting businesses and users: This could be a big boost for businesses looking to use WhatsApp as a connection tool. Zuckerberg believes that social feeds are increasingly becoming discovery platforms, and that users would now be more open to engaging with brands within their messaging where the relationship is more direct and privacy better preserved.

Continuing to move into payments: Meta is developing a solution that allows users to make a secure payment directly from chat with their credit or debit card. This experiment, recently launched in India, will be extended to Brazil with several payment partners, including the national instant payment solution Pix. This seamless payment experience will be a game changer for people and businesses looking to buy and sell on WhatsApp without having to visit a website, open another app or pay in person.
PUTTING IT INTO PERSPECTIVE
This is not new, by the way, as this is also the model being pursued by the other meta social network, Instagram, which last July offered its users, a feature, paving the way for a new form of online shopping and payment, via its integrated chat allowing for exchange on its platform.