Novus, a new committed banking application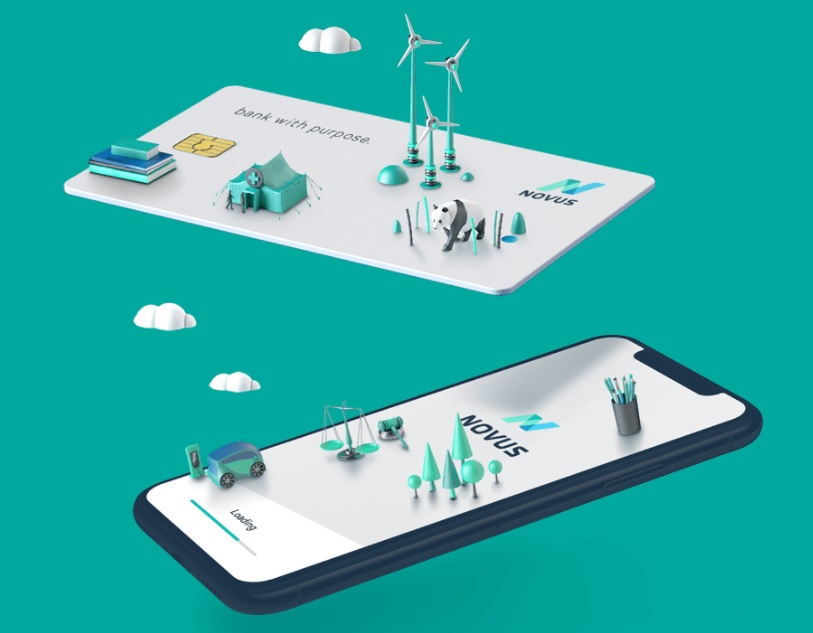 Novus is a FinTech that holds the promise of a new banking offering combining lifestyle and CSR values within the same app. It has just signed with Visa and UK banking-as-a-service platform Railsbank to launch its offering in the UK, reigniting interest in positive impact banking solutions.
FACTS
Novus has partnered with Visa and Railsbank to launch its new mobile banking app that rewards consumers who prefer to make sustainable purchases with the goal of generating a positive impact (social or environmental) via their daily payments.
Novus' model combines:

a classic current account,
a debit card,
a PFM and account aggregation option allowing users to track all their finances,
a space for introducing ethical partners where Novus customers are invited to spend their money on various purchases (from food to health, fashion or even travel).
Novus is based on redistribution: the FinTech rewards its community members with points that can be stored and tracked via the app. These points are then transformed into donations to support different causes: the fight against inequality, the fight against hunger, the de-pollution of the ocean, etc.
The application allows its users to track their social and environmental impact in real time and to visualize their carbon footprint as a consumer.
Nearly 15,000 people have signed up for the Novus app waiting list. The app will be available to the general public this summer.
CHALLENGES
Strengthening the positive impact banking market: PixPay, Meniga, Aspiration and NewB all have models of citizen or ecological neo-banks that illustrate the emerging trend of this new generation of financial services displaying values that echo the concerns of customers.
Incentivizing commitment: beyond the salutary awareness made possible by tracking one's carbon footprint, for example, Novus includes in its offering a practical solution allowing its clients to contribute directly to specific causes.
A committed business model: to allow its customers to donate to associations, Novus has chosen to cut back on its interchange revenues. A portion of its revenues is used to reward its customers for participating in the support of selected causes.
MARKET PERSPECTIVE
In December 2019, Mastercard announced its partnership with Swedish startup Doconomy. The goal then was to offer Mastercard cardholders an overview of the carbon impact of each of their purchases. Last April, the payment giant allowed any bank to integrate the calculator through its dedicated APIs.
85% of adults surveyed in 24 countries say they want to get more involved in protecting the environment.