N26 Customises and Revamps N26 Black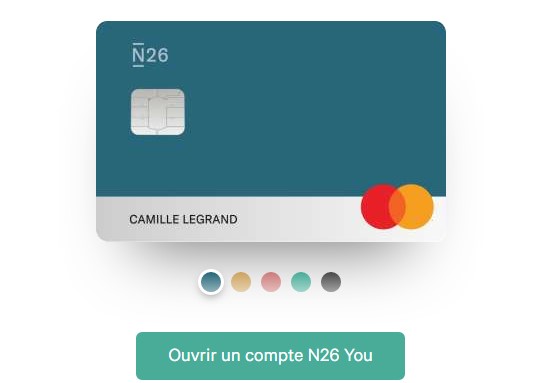 FACTS
The German FinTech N26 unveils their latest service. Their N26 Black offer is being revamped to build N26 You, which bets on a customised borderless approach.
N26 You is described as a Premium bank account for travellers, and packs in additional benefits.
Regarding the offer:

€9.90 / month
A of Allianz travel insurance (delayed flight, lost luggage, foreign medical expenses, smartphones theft)
Extended warranty on qualified purchases
Fee-free, unlimited ATM withdrawals abroad
Unlimited payments abroad
Exclusive discounts at N26 partners (Hotels.com, WeWork, GetYourGuide, etc.)
2 customised companion Mastercard cards linked to the account (option soon to be made available)
Urban mobility insurance (planned service)

These last three characteristics are exclusive offers, they were not included in N26 Black.
When it comes to marketing, N26 also lets customers customise their card. Five colours are available: Aqua, Rhubarb, Sand, Slate and Ocean.
An N26 You Business service is also featured.
N26 in Europe (June 2019)

24 markets covered in Europe
3.5M customers
400 transactions/minute
Assessed monthly transaction volume: €2B
1,300 employees
50% growth owned to recommendations
CHALLENGES
Customisation levelled up. N26 You applies changes to the Black offer, betting on a communication and customisation campaign rather than on actually rebuilding the service. This FinTech also plans to launch additional options in the weeks to come.
MARKET PERSPECTIVE
With N26 You, N26 still feature three distinct offers. Their free service with a limited number of advantages is still available, and so is their Premium pack with a companion Metal card.
N26 You might, however, grasp some market shares from the Metal pack considering the options it includes. It remains to be seen how they plan to account for the €7 price difference between these two offers.
N26 just raised $170 million, and intends to fund their US expansion (formally announced mid-July), and their rollout in Brazil. This FinTech is now valued at $3.5 billion.