Payment
Self-Service Banking
France
Brink's Own ATMs Installed in France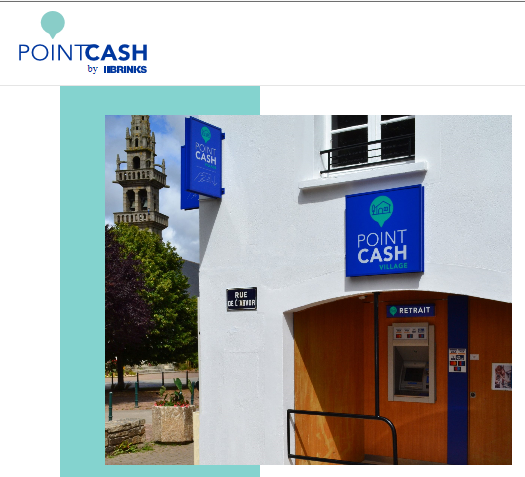 FACTS
The American cash escort specialist Brink's installed their first Point Cash Village in Brittany, in a town with 5,200 inhabitants, where the last ATM (operated by Crédit Mutuel de Bretagne) was removed last year.
Brink's new offer is meant for local authorities, especially in rural areas.
Goal: compensating the lack of ATMs where their exploitation isn't considered profitable by banks.
Business model: local authorities are charged a €1,500/month subscription. Brink's, however, inaugurates a model they describe as low-cost and designed with partners enabling them to cut down costs. Their contract plans that the subscription price should decrease if the ATM is frequently used.
CHALLENGES
Integration model encompassing the entire cash management chain. A few days ago, Brink's teamed up with BPCE and became in charge of their managing their ATM estate. This move didn't go unnoticed and might prefigure a global strategy considering ATM networks' lower profit margins.
A likewise trend can be observed in the Netherlands and in Belgium, where Belfius teamed up with Diebold Nixdorf.
Additional positioning for banks. Brink's goal is to be considered as an alternative when banking institutions choose to shut down their ATMs due to poor profitability in some locations. They are also looking into building a white label offer for banks.
BdF report on cash accesS in France

Highly satisfying access in general… (98.9% of the population lives less than 15 minutes' drive away from an ATM)
… but wide disparities in some French departments: In some departments (Creuse, Haute-Saône, Meuse, Lot and Yonne), only 40 to 60% of the population has access to an ATM in-town.
ATMs are still uncommon in municipalities with under 2,000 inhabitants.
The number of ATMs in mainland France dropped by 5.3% in 3 years.
Outstanding exception: La Banque Postale, whose ATM estate has been expanded.
MARKET PERSPECTIVE
A legal proposal for fighting banking desertification was presented to the French Senate in November 2018. The Banque de France was  then appointed. They just released a report on cash access in France.
Brink's manages 12,000 ATMs in France.
exploitation cost for an ATM: €14,000 to €25,000 per year, per ATM. This cost could be reduced by 10 to 30% if outsourcing is applied. In the current cash management context, Brink's is provided a growth relay.