Insurance
Innovation
France
Moonshot-Internet Branches Out, Adds Travel Insurance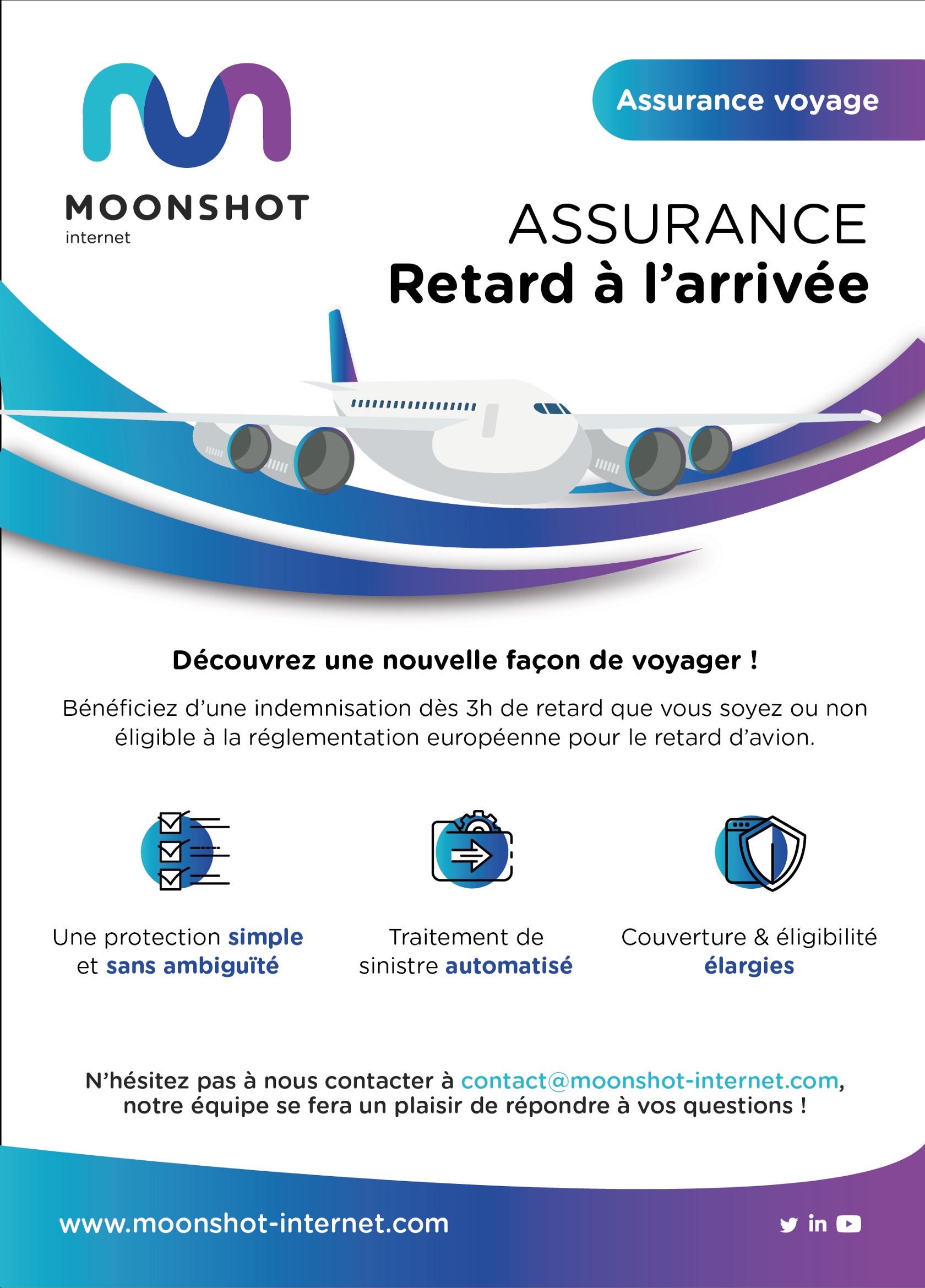 FACTS
Société Générale Assurances' context-based InsurTech, Moonshot-Internet teams up with AirRefund, which focuses on flights-related claims. They launch two new insurance policies, for flight delays and cancellations.
This insurance service is meant for passengers having had to cope with flight delays of more than 3 hours, or with cancelled flights, whether or not they are eligible to current European regulation.
This offer stands out since it covers delays when landing, and not just delays in departures.
For this partnership, AirRefund stresses their expertise in assisting customers with claims after flight disruptions.
Insurance coverage:

Moonshot-Internet's offers comes as an API for integration with partner travel and flight booking players' websites and mobile apps.
Moonshot-Internet automatically detects damages.
The InsurTech is then in charge of contacting customers having subscribed the offer when booking their flight ticket.
Compensations are sent within 2 to 7 days after supporting documents are verified and processed.
KEY FIGURES

2017: Moonshot-Internet launched
7 awards (Label Finance Innovation, Global Business Insights Award, w&f FinTech Awards, etc.)
Made it to the Top 100 of most innovative InsurTechs according to FinTech Global
20 partners
100,000 customers
CHALLENGES
Expanding their existing offer. Moonshot-Internet already featured an insurance offer addressing delayed flight departures. These new options will be expanding their range of offers for travellers.
Streamlining compensation processes. Save for sending some supporting documents (boarding pass, for instance), insured parties don't have to deal with paperwork to be refunded quite quickly.
MARKET PERSPECTIVE
Moonshot-Internet announces more partnerships and aims at further diversifying their range of offers. In 2018, they bet on Lydia to pay their customers back instantly. And they started relying on another InsurTech (Roadzen) in April 2019 to boost their development.
Besides, they also announced an agreement with the e-commerce leader Rakuten to enhance their customers' experience and, in turn, increase their customer bases.