Distribution Channel – Branches
France
Monoprix sets up an NFT corner in its shops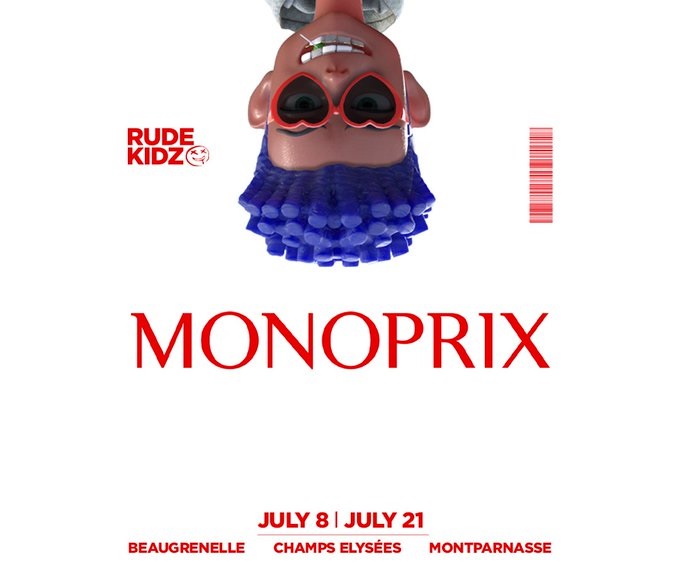 French retailer Monoprix, part of the Casino group, is taking another step into the world of Web 3.0 by opening physical corners in some of its Parisian shops to sell a novel, dematerialised product in the form of NFT. This is a new step in its positioning strategy in a market that is as volatile as it is innovative.
FACTS
Some Monoprix shops in Paris are hosting a new summer campaign, launched by the group on 8 July. It is due to end on 21 July and has been called "Web3 for all".

The campaign, which is designed to raise awareness of this new market, takes the more concrete form of setting up ephemeral corners dedicated to NFTs in three Parisian Monoprix stores on the Champs-Elysées, in Montparnasse and in Beaugrenelle.

Educational workshops on the themes of NFT and Metaverse are to be held there, led by Web 3.0 experts.

These corners will also allow visitors to buy NFTs from the Rude Kidz collection, thanks to the installation of NFT vending machines designed by a French start-up, Ownest. 550 NFTs at a unit price of 249 euros will be on sale.

In addition to their digital asset, purchasers of these NFTs will leave Monoprix shops with a printed poster depicting the image of their token, a Rude Kidz T-shirt and canvas bag, as well as a €20 Monoprix voucher.

Payment for these NFTs will be required in Euros.
CHALLENGES
Reinforcing its avant-garde positioning: This is not the first time that Monoprix has positioned itself on the NFT market. The French retailer already indicated its interest in this market last April. At that time, it put two exclusive NFT collections on sale, in collaboration with a pastry chef and a designer.

Creating excitement in its points of sale: The sale of NFT in the context of a corner installed within a physical shop also represents a means for the retail group to create buzz around its brand, to surf on a current phenomenon and to animate its shops.

Democratising Web 3.0: Monoprix intends to play a role that is somewhat detached from its core business, by ensuring that the general public meets the Web 3.0 market.
MARKET PERSPECTIVE
The "biggest idiot theory". These are the words of Bill Gates, tech billionaire, founder of Microsoft and renowned computer scientist, who recently defined the NFT market. A personal opinion, but one that carries a lot of weight given the quality of the author of these words, which also echo many other similar opinions.

Especially since the elusiveness of this market favours its volatility and its risks. For example, if the NFT of the first tweet ever published by social network founder Jack Dorsey were sold for $2.9 million in March 2021 at an auction, it would currently be worth only 0.0166 Ether (ETH), or approximately $29.

When it was reoffered for sale in April for $48 million, the owner was unable to find a buyer and this situation illustrates a general decline in NFT prices across the market.

However, some industry observers point out that this drop is directly related to the decline in the cryptocurrency market and that the NFT sector is expected to be worth around $13.6 billion worldwide by 2027.