Payment
Players' Strategy
International
MasterCard expands its consulting activities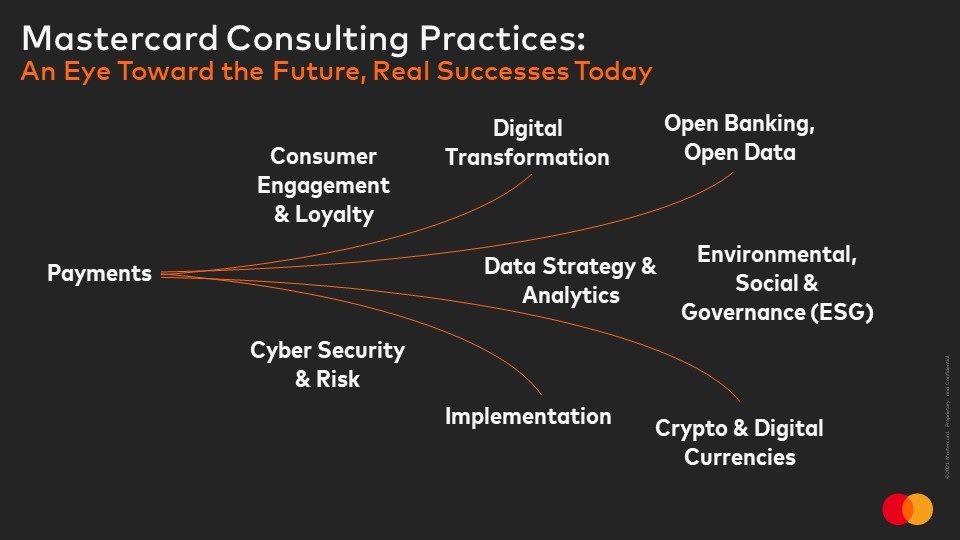 MasterCard's advisory service has been expanded to include three major new topics: Open Banking, crypto-assets and ESG issues (concerning environmental, social and governance criteria). All of these topics will obviously be dealt with in connection with payments, in line with the core business of the American scheme. This positioning nevertheless reflects MasterCard's efforts to diversify its services.
FACTS
Mastercard Data & Services, MasterCard's analytics and consulting arm, currently has more than 2,000 data scientists, engineers and consultants serving clients in 70 countries around the world.

But the group is now planning to expand this activity even further. MasterCard is presenting a growth plan for Mastercard Data & Services, based in particular on the recruitment of more than 500 university graduates and young professionals specialising in the following areas

Open Banking,
Crypto-assets (digital currencies and NFT),
ESG criteria.

The future work of MasterCard's dedicated advisory unit will therefore also focus on these new topics of interest to the group. The angle adopted for their analysis will obviously be that of payment.

Companies of all sizes are targeted as the next beneficiaries of MasterCard's future strategic advice on these topics. MasterCard intends to :

help businesses maximise the opportunities of Open Banking and open data,

Help central banks explore the design and deployment of a central bank digital currency,

help businesses to meet the expectations of consumers, who are increasingly aware of the social and ecological issues surrounding products and brands.
CHALLENGES
Keeping up with trends: The socially responsible commitments of financial organisations are under greater scrutiny than ever, particularly since COP26. Furthermore, while Open Banking has been a strong trend for several months now, crypto banking has been heralded as a coming revolution. MasterCard has therefore opened up its consulting activity to three major trends that companies will have to position themselves for the near future.

Making a name for itself beyond payment: By surfing on these major trends that are making international headlines, MasterCard is also seeking to shed more light on its consulting business and to present itself as an expert in financial services and the new technologies that are transforming the sector. This positioning is all the more necessary for MasterCard, which is faced with increasing competition in the payment market and the questioning of its hegemony.
MARKET PERSPECTIVE
MasterCard has already developed a great deal of expertise in the three areas in which its consulting division will henceforth provide advice to companies:

The payment giant is thus a pioneer in the democratisation of crypto-assets, even positioning itself, at the beginning of 2021, in favour of the integration of cryptos within its payment infrastructure. Already in 2020, the American scheme wanted to help central banks deploy their digital currencies.

On the subject of Open Banking, MasterCard is once again committed to establishing itself as a market reference. The group consolidated its position with Aiia last September.

And finally, like all financial companies today, MasterCard is defending a committed positioning, which is reflected in the launch of new services dedicated to the calculation of carbon emissions or financial inclusion, in order to promote its social and environmental values.