Lydia and Banque Casino Unveil an Instant Credit Offer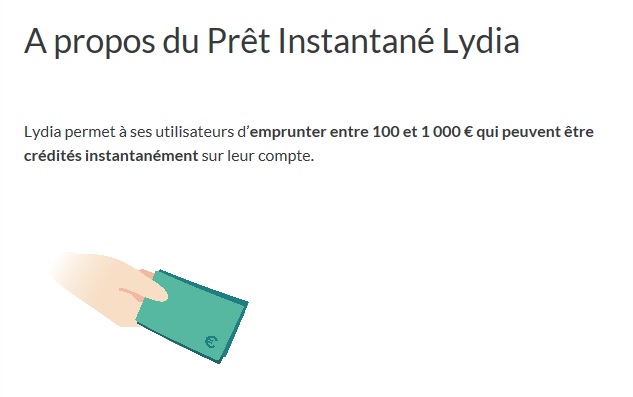 FACTS
The P2P payment specialist Lydia partners with Banque Casino on launching an instant consumer lending service, for 30,000 Lydia cardholders.
Terms of the loan:

Amount: from €100 to €1,000
Repayment period: 3 months
APR: 3.13%
Applied fees for instant service: €6.90 for a €100 loan; this fee may gradually decrease based on the amount of the loan
Customers may choose to be sent the amount after the 14-day withdrawal period. In this case, no additional fees apply

Also, the customer may search through his purchasing history using Lydia's mobile app, choose a purchase, apply for a loan for this exact amount and spread his payment.
Target figures: Address 80% of Lydia cardholders and grant tens of thousands of loans by the end of 2019. Banque Casino deems that the approval rate could reach 80%.
Key Figures: Banque Casino

2 million customers
100,000 "Coup de pouce" loans granted in 2018, for roughly €570
25% share in installed payment market (assessed at €5 billion)
CHALLENGES
A single interface for all financial services. Lydia keeps its promise to build a "meta-banking" offer, the model of which was introduced when launching their all-in-one card.
They now proceed on with financial aggregation services still in mind. They already feature CNP's insurance service for mobile phones and, in addition to consumer lending, they are also considering other options, such as savings and investments.
Leveraging value addition from their payment account: flexible and real time. Lydia relies on a non-banking status to propose an instant credit service. They do not send the loans they grant to the applicant's bank account but to an e-money payment account: these transactions can then be processed instantly. They bet on this real-time feature to craft an extremely simple customer process.
Targeting challenges. Through this launch, Lydia intends to increase their card subscription levels (their goal is to attract 300,000 cardholders by the end of 2019). Banque Casino, for their part, aim for younger customers: 82% of Lydia customers are under 30.
MARKET PERSPECTIVE
Banque Casino took 8 months to craft a new version of their "Coup de Pouce" lending offer for Cdiscount customers (from €100 to €1,500 released within 24h to the customer's bank account).
Lydia already insisted on how their payment account could be used to handle real-time transactions:  Moonshot-Internet's insured customers with a Lydia account are instantly sent compensations in the event of a disaster.