LenDenClub Introduces InstaMoney Short-Term P2P Lending App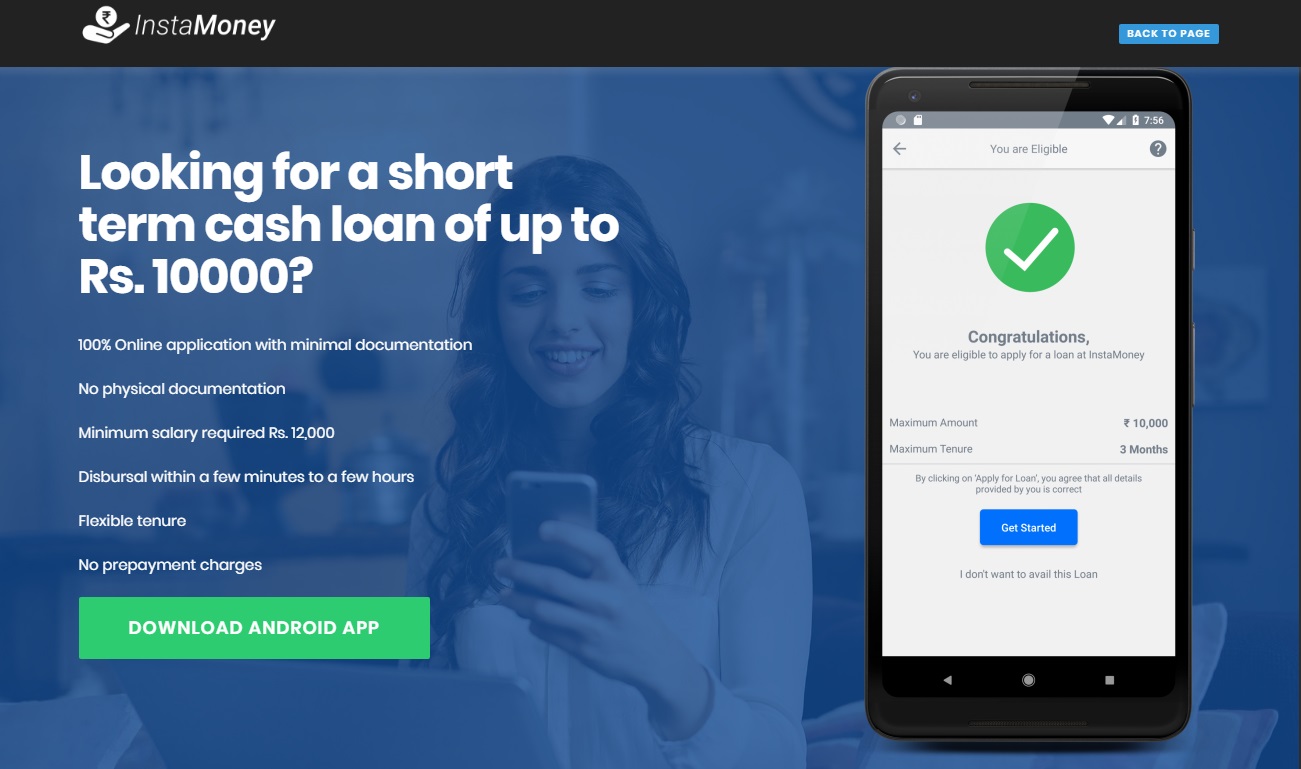 LenDenClub –one of the leading P2P lending platforms in India– launches a mobile app called InstaMoney, enabling young workers to be granted advances on salary or instant cash loans, faster (within 24h) and more easily. Millennials are their main targets, as they are usually poorly addressed by conventional financial institutions.
The P2P lending platform LenDenClub has been developing fast in India. Their new InstaMoney app is intended to connect lenders and borrowers, helping them deal with unplanned expenses and apply for short-term personal loans.
Upon applying, InstaMoney users must confirm they have a job, a monthly income of at least 12,000 rupees (roughly €150). They specify their 12-digit Aadhaar number (paired with their biometric information). These loans may range from 5,000 to 10,000 rupees (€60 to €150) over 1 to 3 months. Variable interest rates apply (from 200 to 400 rupees). The decisioning process takes 24 hours and, if approval is granted, the amount is sent within 2 or 3 hours.
With this service, LenDenClub allows young employed people to access credit facilities in a country where traditional banking institutions have trouble granting loans since customers are often not considered creditworthy, or are basically excluded from the banking system.
Comments – India: a promising market for credit offers
This solution is mostly meant for Millennials –choice targets in India– and intended to become essential for these young workers (advances on salary especially). This point is particularly relevant when these creditworthy customers live and work in mid-sized towns but happen to be excluded or poorly addressed by conventional credit institutions. New entrants, including LenDenClub, rely on this trend/need, as well as on increasing smartphone and Internet penetration rates to stand out on the emerging market for mobile-based lending platforms. No less than 25 P2P lending platforms are now present in India. Also, some players opted for India by way of diversifying their services: PayU, WhatsApp or Xiaomi, for instance, are there to highlight the potential and attractiveness of this market segment.
In the end of 2017, LenDenClub reported 11,000 borrowers, for slightly less than 170 million rupees in loans (roughly €2 million) and a 25% payback rate on their investments.
Also: https://play.google.com/store/apps/details?id=com.innofinsolutions.lendenclub.lender