Fraud Prevention
Payment
France
Fingerprint-Based Biometrics for Safer Credit Transfers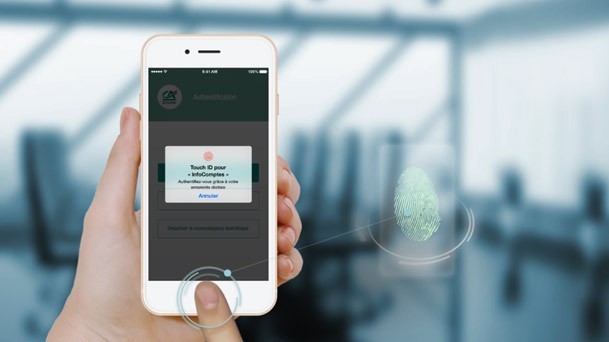 Regulatory changes and increasing pressure in terms of cybercrime fight are leading banks to adjust their fraud prevention solutions. Crédit Agricole Payment Services, for instance, is planning to implement a fingerprint-based authentication service.
Until recently, this Crédit Agricole subsidiary imposed a 48 hours delay before customers could transfer money to a newly added account: this was hindering their customer process. Fingerprint-based biometrics should soon be proposed instead of this security measure.
Their new SCAD protocol (Service Centralisé d'Authentification Dynamique, literally: security certificate for dynamic authentication) relies on three factors: "what the customer knows" (password or PIN code), "what he owns" (his payment card) and "who he is", through verifying his fingerprint. These three factors combined (enabled or not based on contextual specifics) will ensure strong authentication for securing credit transfers, prior to being applied to Instant Payment services, too.
This service will be rolled out by the end of summer 2018 throughout the group's 19 regional subsidiaries. To begin with, fingerprint biometrics will apply but face biometrics is also considered, as well as vein patterns (which should be tested as of September this year).
Comments – Instant Payment speeding up changes
Instant Payment-related service launches (and the underlying constraints) will heavily impact the European payments landscape. By way of complying with the European Payment Council's recommendations and avoid credit transfer fraud, banking institutions must reconsider their authentication processes. In this context, Crédit Agricole Payment Services makes required adjustments via implementing a biometric-based solution. The point is to prevent credit transfer fraud and prepare for the upcoming implantation of Instant Payment.
This service is consistent with a series of recent announcements, including by BPCE and Crédit Mutuel Arkéa. The SCAD protocol could pave the way for more developments, new authentication methods for securing real-time credit transfer operations.