Jaab: a Contactless Purse for Kids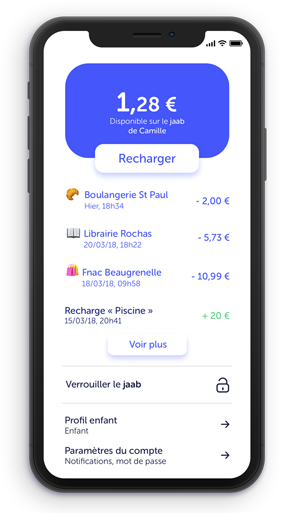 FACTS
La Poste will be launching their connected purse for young customers this spring.
Goal: This payment tool called Jaab was designed by La Poste's innovation lab Yellow Innovations to help parents teach their kids how to handle their budget.
Jaab is no larger than a payment card and meant to let kids pay contactless for small day-to-day purchases. This connected device is fully customisable using removable cases.
Through the associated app, parents may:

Top-up the prepaid account
Check the remaining balance (a €30 limit applies)
Be sent notifications for each payment (time, place, amount)
Instantly block all transactions if the item is lost

Jaab costs €19.90. The first 3 months are free, then a €2/month subscription fee is charged.
CHALLENGES
Placing bets on securing customers' loyalty. La Poste crafted this offer for kids as most of their customers have pre-teenagers.
Upholding educational goals for pre-teens while helping parents manage their account. The group also plans to add a mobile app for kids so they can track their expenses, too. This service could see the day by the end of this year.
With this launch, La Poste further stresses their commitment to boosting innovative services and become a leading provider of proximity services.
MARKET PERSPECTIVE
Meanwhile, and still with financial education in mind, La poste is also working on a connected piggy bank (called Monimalz) enabling kids under 4 to learn how to manage their savings with help from their parents.
Likewise, other groups are aiming for pre-teens. Boursorama, for instance, built an offer for young customers by way of renewing their customer base. Macif also praised financial education when they launched a low-cost, multi-currency prepaid card for kids.