HEMA promotes Homies' Social Network and Multi-Risk Home Insurance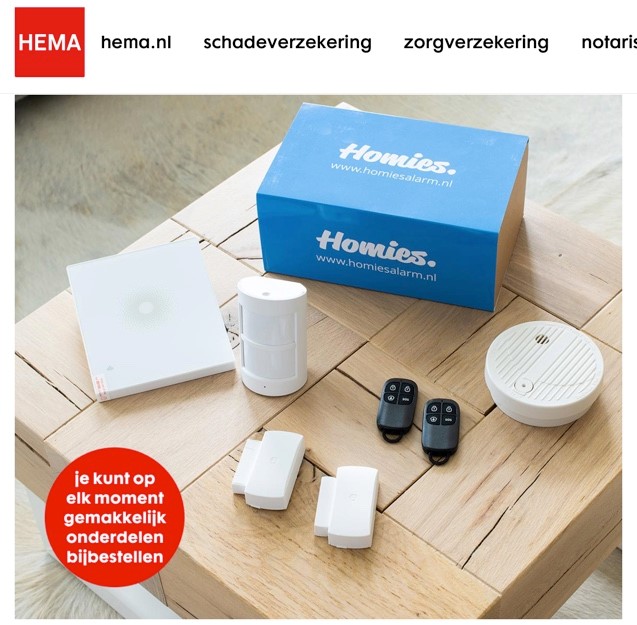 FACTS
The Dutch group HEMA teams up with the insurance company Achmea.
Through this agreement, HEMA sells Homies service online and via their brick-and-mortar locations. Homies is a social alarm system paired with sensors for warning emergency services in case of break-in or fire.
Homies was founded in 2016 by InShared –subsidiary of Achmea– in partnership with Accenture.
How it works:

Customers purchase and install an Homies package.
Download the Homies app and specify phone numbers for their neighbours and friends nearby.
If a sensor detects an issue, these contacts are sent a notification via a temporary WhatsApp group. They are invited to check the customer's house and call the relevant emergency service if needed.
The WhatsApp group is deleted as soon as the issue is solved.

In line with this distribution partnership, people buying a Homies package are provided a 10% discount on their MRH insurance contract.
1 central station
1 Smoke detector
2 window sensors
1 motion sensor
2 remotes

HEMA's prices:

€149 per package (vs €249)
Subscription: €3.99/month
CHALLENGES
A partnership for finding business, Boosting the adoption of HEMA's insurance offers. This Dutch group has bene facing financial difficulties for years. This situation cause caused them to be sold in 2018. They now try to come up with new revenue sources, including insurance services. With Homies, they find a way to sell their offers while featuring additional services for their customers.
Values for building bridges. This partnership is relevant as HEMA and Homies share similar values: they both try to promote social cohesion. The network insists on the part played by their service as a vector for local cohesion: 40% of Homies users say they talk with their neighbours more often after opting for this service.
MARKET PERSPECTIVE
This distribution partnership is somewhat reminiscent of an agreement between Amazon and the insurance group Travelers on selling connected home packages. They used to be distributed through a dedicated website.