Payment Card
Payment
France
Fraud Prevention: Société Générale Rolls Out Business and Corporate Versions of MOTION CODE Card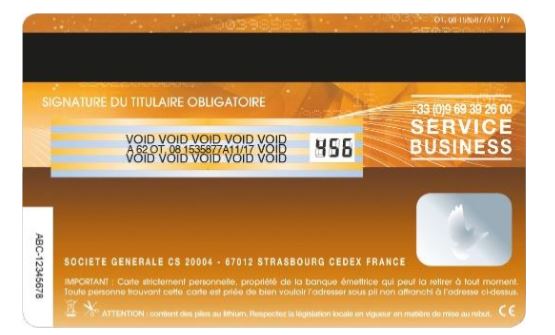 Seeing how successful their MOTION CODE dynamic CVx display cards have been with individual customers, Société Générale introduces a business version.
This solution designed by Oberthur Technologies consists in embedding a small screen at the back of the card so a new cryptogram can be displayed every hour. These fraud prevention tools were officially launched in the beginning of 2017 and have already been adopted by more than 300,000 individual customers.
From now on, they also propose a version for businesses and corporate customers with either a Corporate card (CB Visa Affaires, CB Visa Gold Affaires) or a Business card (CB Visa Business, CB Visa Gold Business).
Just like with individual cardholders, this option costs 12 euros/year, in addition to the initial card fee.
Comments – Display cards: well-tried fraud prevention tools
Several banks have already had their customers try dynamic CVx cards. Just like Société Générale, BPCE and BNP Paribas also selected Oberthur Technologies to tests this technology but they haven't yet announced official launches. For now, Société Générale remains the only bank in France (and even worldwide) allowing their customers to rely on these next-generation cards. Considering their success, Crédit du Nord is expected to add this option this very month, on 24 April.
This technology has been a way for Société Générale to secure individual cardholders' loyalty, and should now help them strengthen their links with business customers, as well. Making online purchases still is an issue for these segments: as fraud cases keep headlining the news, this rollout shows that companies need to be provided secure solutions for e‑payment contexts.
This considered, some FinTechs are expanding their range of BtoB services with businesses' transaction security in mind. IbanFirst, for instance, proposes free virtual cards for SMEs. And Spendesk introduced a browser extension to generate virtual cards and auto-populate card details on payment pages.