Feedback: N26 announces results and increased losses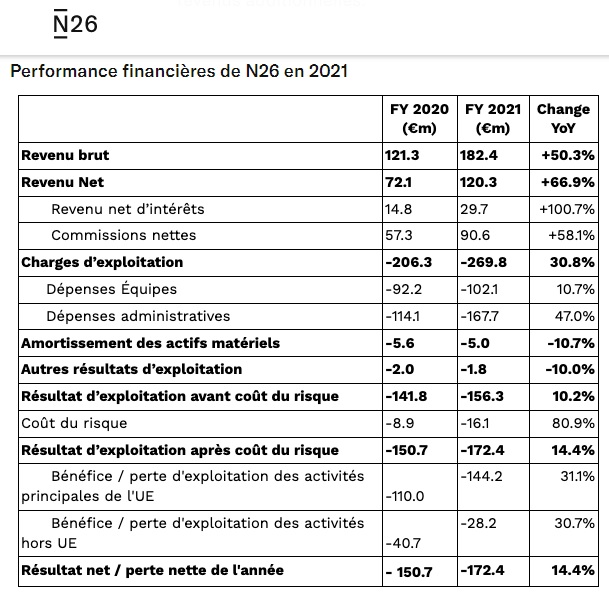 The German-based neo-bank N26 started to publish its results at the beginning of the year, by releasing the figures related to its activity for the year 2020. An effort for the European FinTech, that it has chosen to repeat today, despite its losses and a difficult time to pass through for the whole fintech ecosystem.
FACTS
N26's new earnings release this time concerns the FinTech's activities over the year 2021.

N26 introduces its presentation by announcing a 67% year-on-year increase in its net revenues, now estimated at €120 million.

The neo-bank specifies that it has made numerous investments in recruitment, product development, evolution of its mobile platform and the fight against fraud. This is a way of justifying the increase in its losses, which have risen by 14% over a year and are now set at 172.4 million euros.

This last result does not prevent the FinTech from reaching a valuation re-evaluated at the time of its last round of financing at the end of 2021, at 9 billion dollars.

N26 now has 1,500 employees in Europe, able to serve its 8 million customers (including 3.7 million revenue-generating customers via paid offers). 1 million new customers have joined the neo-bank in 2021 across the 24 countries where it operates.

These new customers are attracted by the constant enrichment of N26's services, which has launched more than a dozen new features in 2021.
CHALLENGES
Enhancing its customer portfolio: N26 explains the increase in its gross revenues by the activity of its customers and the increase in their transaction volume, by +59% in one year, representing an amount of 80 billion euros against 50.3 in 2020. Deposits to N26 accounts have increased by +52% to €6.1 billion in 2021 (vs. €4 billion in 2020). Each N26 customer logs in on average three times a week to the neo-bank's application.

Reassuring despite the difficulties: N26 insists on the sustainability of its business, particularly linked to the upcoming optimization of new sources of additional revenue by the neo-bank (savings, insurance, investment in crypto-assets). It is thus seeking to reassure the market, investors and observers, about its losses and its recent setbacks: the end of its Italian expansion, exit from the US market, and sanctions from regulatory institutions. On this last point, N26 insists on its recent investments (teams and dedicated systems) aimed at strengthening its activities on regulatory aspects.
MARKET PERSPECTIVE
N26's difficulties illustrate those encountered by an entire market (of the neo-banks) to sustain their activities on the basis of free services for individuals. Boursorama is an example of this in France, regularly reaching records for customer acquisition, but also for losses.

The paradox of success without profitability is therefore still relevant in the neo-banking market, although this situation does not hinder the ambitions of these players. Moreover, N26 is now conceding to improvements, particularly in terms of regulation, to continue its deployment and even ensure its listing on the stock market within two years. It finally plans to become profitable by 2024 on a European scale.