Feedback: Fragmented payment attracts one third of French people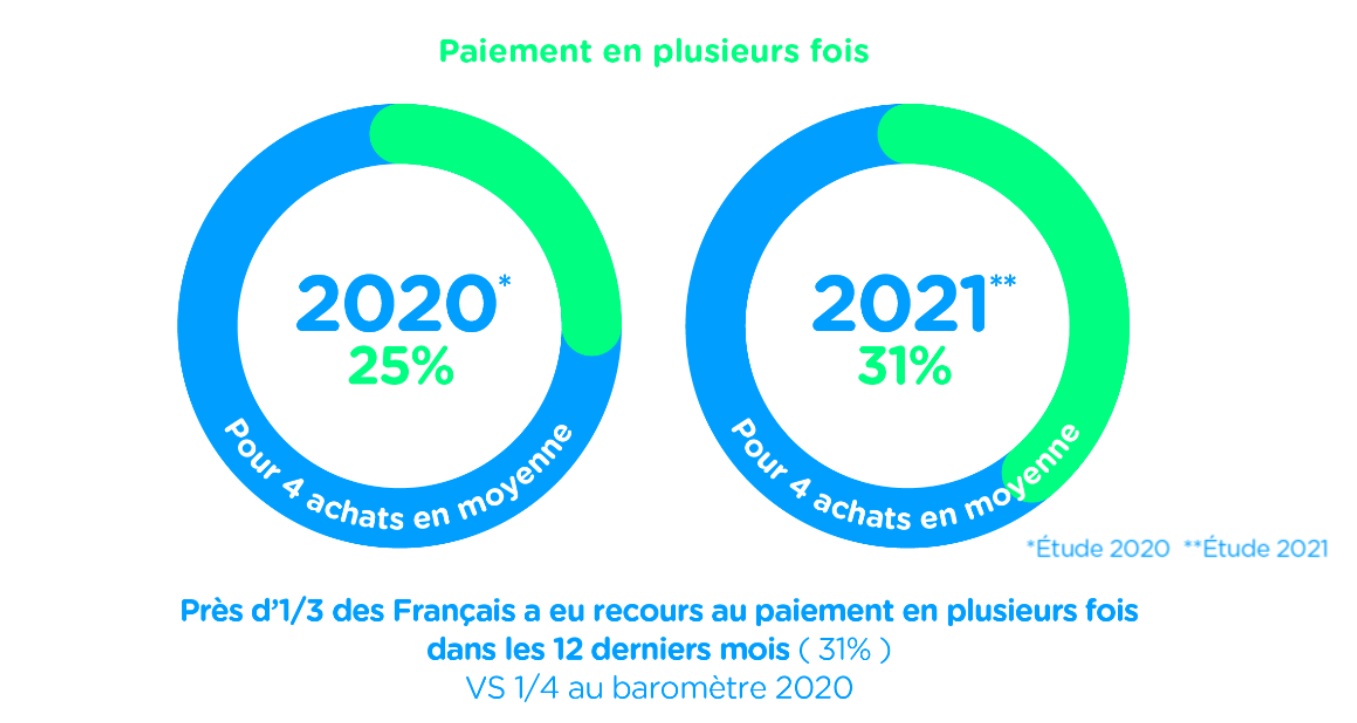 FACTS
Leader in the fragmented payment market in France, Floa Bank has conducted the 3rd wave of its barometer with Opinion Way to assess the use of these payment facilities, which are booming in France.
The survey shows that the French are indeed increasingly in favor of this payment facility.
Methodology: survey conducted by OpininonWay among 1001 French adults last April.
The number of users of split payment solutions has increased by 6 points compared to 2020. Nearly 31% of French people used split payments in 2020. 25% have also used a deferred payment service to pay for a purchase in 14 or 30 days.
79% of French people who have already used this payment method want to use it again in the coming months.
Transaction characteristics :

On average, four purchases are made online or in-store each year by the French using the 3 or 4 payment method.
Two out of three French people (62%) use it for expenses of less than 500 euros.
Type of users: the OpinionWay survey reveals that 37% of the CSP+ have used split payments in the last twelve months, compared to 24% of inactive people. Half of those surveyed said they used split payments to balance their budget and a quarter to deal with an unexpected expense.
CHALLENGES
The main finding of this new wave is that the use of split payments is becoming established in the French population. The figures for future intentions continue to rise, as does the proportion of customers who would be willing to change brands to take advantage of this payment facility (nearly 80%).
Split payment is a growing market. In 2019, it exceeded 6 billion euros and could reach 25 billion euros by 2025. Players like Oney have seen the demand for their fragmented payment solution explode (+51% in the 1st confinement). In France, as in Europe, the market has become highly competitive.
MARKET PERSPECTIVE
The Banque de France recently published the first issue of its monthly Financial Inclusion Barometer, which is designed to monitor the issue of overindebtedness in France. According to these figures, overindebtedness is 20% below its 2019 level, thanks to a 24% drop in the number of filings recorded as a result of the lock-down. However, the risk could rise again and even intensify in a consumer recovery situation.
While fragmented payments is still under the radar of the Banque de France, due to the fact that they only involve small amounts and are not considered as credits, the explosion of this payment facility remains subject to strong scrutiny. The UK Treasury has been working with the FCA since February 2021 to bring BNPL businesses under its supervision and under the Consumer Credit Act.
Floa Bank, for its part, is the target of a complaint from UFC Que Choisir for its "Coup de Pouce" mini-credit. A revision of the European directive on consumer credit will also lead to a reinforcement of the information provided to households on the risks linked to the multiplication of new credit or payment solutions in France. Fragmented payments, like overdraft authorizations, are therefore a problem in the fight against overindebtedness, particularly in a context of economic and consumer recovery.