Enfuce for Monitoring Everyday Purchases' Carbon Footprint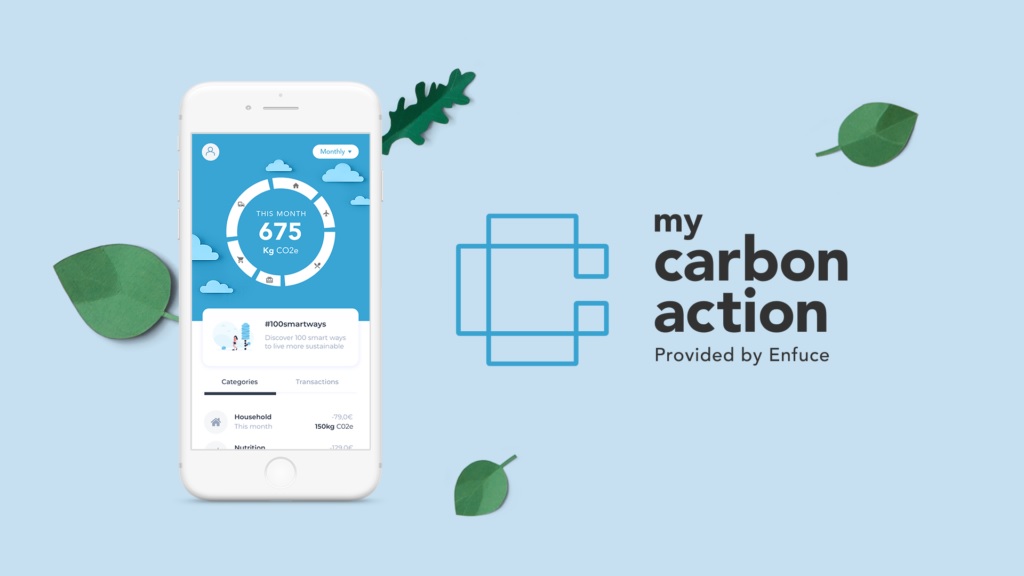 FACTS
was established in 2016 and grew to become one of the largest Finnish FinTechs. They are about to launch My Carbon Action: solution crafted in partnership with AWS and Mastercard.
Goal: help banking and retail customers track their carbon footprint when making purchases, and provide them with advice on improving their environmental footprint.
Enfuce relies on a calculation model called Life Cycle Assessment (LCA), by D-mat. This method enables them to calculate CO2 emissions throughout the products' lifecycles: raw material extraction, manufacturing, transport, use, removal and disposal.
From a technical standpoint, their service also bets on Amazon's Cloud platform as well as on analysing Mastercard's transactional data.
This solution will be effective starting in spring 2020. it will be sold by banks and merchants interested in assisting their customers with living more sustainable lifestyles.
Business model: Enfuce charges a fee to banks and retailers.
They also built a specific Amazon skill, so customers could ask questions to Alexa and be informed of their carbon footprint at any time. This feature is only available in English since Alexa doesn't yet support Finnish.
CHALLENGES
Setting links between banks, retailers and customers. Enfuce ensures value addition for banks and retailers, helping them provide their customers with a means to better monitor their carbon footprint. Enfuce's founders also believe these players will be compelled to include this information in the years to come.
Outpacing relatively similar programs, Enfuce relies on both automation and customisation. The users' footprints evolve in real time every time they make a purchase, and they don't have to key in additional information. The tracking process is simplified. Besides, all reports sent over to the customers are fully customised based on their purchasing habits. They would then create value via automating transactional data analyses as is the case with Card-Linked Offers.
MARKET PERSPECTIVE
In 2018, Enfuce won the Lighthouse Development Program, Mastercard's FinTech partnership accelerator in the Nordics and Baltics.
They also feature an Open Banking platform and just raised €10 million from Maki.vc, Nordea, LähiTapiola and Finnvera. This investment would contribute to launching My Carbon Action, to boosting their recruitment process (scaling up from 52 to 70 employees) and to targeting international markets. Enfuce would first be aiming for Germany and Spain, and, later on, for Australia and Asia.
Their list of customers includes the FinTech Pleo.