Credit
Innovation
Singapore
DBS Applies Instant Decisioning Process for Credit Cards and Loans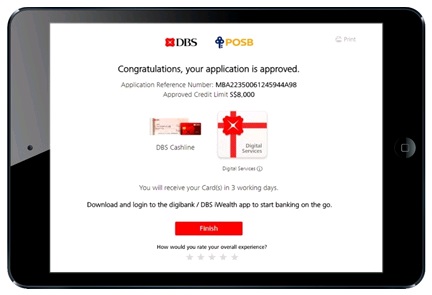 DBS Bank introduced an automated service for account opening procedures a few years ago, and now unveils an instant online decisioning process for loan and credit card applications. This service will be leveraging the national platform MyInfo to make it easier for customers to access financial services.
DBS Bank and their subsidiary POSB allow their customers to apply for a credit card or open a DBS Cashline account using an online application service, via DBS website. The approval and the funds are released instantly. They rely on data centralised on the MyInfo platform –accessible to 3.3 million SingPass account holders.
The application process via MyInfo allows customers to get scoring information and instant approval, without having to provide supporting documents or visiting a branch. The service is in charge of running the online KYC process and automatically pulls the customers' personal data: customer's official name, registered address and Notice of Assessment.
This online process is intended to cut delays in being sent credit cards (subscription or issuing processes).
Comments – Instant credit gaining ground in Asia
DBS is a first level banking and financial group in Asia with roughly 300 branches in 18 countries. This initiative stands out as a market first in Singapore. And the group decided to rely on the MyInfo platform to design automated services for individual customers, using data analytics. Their connection to MyInfo allows them to retrieve the data they need to qualify their borrowers' profiles.
Also, the Open-Banking trend in gaining momentum among banking institutions in Singapore and, more globally, in Asia. DBS made it a priority in dealing with their digital transformation, so have some European banks, such as BBVA.