Credit
Innovation
Singapore
Buy Now, Pay Later for Singapore Customers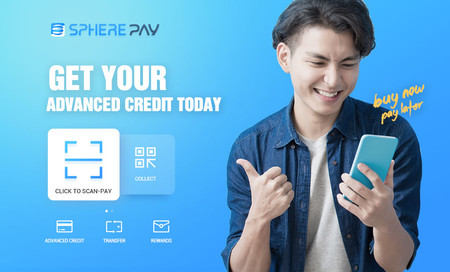 SpherePay –Singapore-based mobile payment app– is expanding their range of services through unveiling a new deferred payment feature allowing their users to pay later, i.e.: on credit. OPG Asia's customers can now head back home with their purchases and pay for them later. Other services should be unveiled as this start-up aims to improve customer experience in general.
SpherePay called their new deferred payment service "Advanced Credit". This Singapore-based wallet lets its users store their payment cards, and proposes a prepaid account for P2P transfers, as well. Customers may purchase items on credit, for amounts up to 300 dollars; this limit can be increased if their initial purchase is settled in a timely manner. The maximum authorised delay has been set up to 45 days. An (unspecified) interest rate applies based on the customer's risk profile (creditworthiness).
The user relies on the SpherePay mobile app to choose the credit option and detail his list of purchases. His request is then processed, so he gets an answer within two hours. He then receives a QR code to be presented at the cash counter for payment validation.
This service is first being made available to Singapore merchants, but should soon be implemented in neighbouring markets, including Malaysia, Thailand or Indonesia.
Comments – In-app credit becomes a trend
Considering customers' demand, retail players are paying special attention to including instalments in their payment options. Other start-ups have also decided to enter this market, and tests have been conducted to address this consumerism approach. In Australia, the retailer Topshop included a Pay Later option in partnership with Afterpay. In France, Zalando adjusted this principle to the e-commerce sector. SpherePay claims they are the first Singapore wallet to branch out through encompassing the concept of "microcredit".
Through this offer, this start-up mostly targets younger and unbanked customers. Their point would be to propose an alternative to credit cards, as is already the case in the US with Affirm.
SpherePay also aims to speed up their response time, bringing it down to 10 minutes (vs 2 hours), and eventually propose an "instant" credit option.