Bridge offers Pay by Link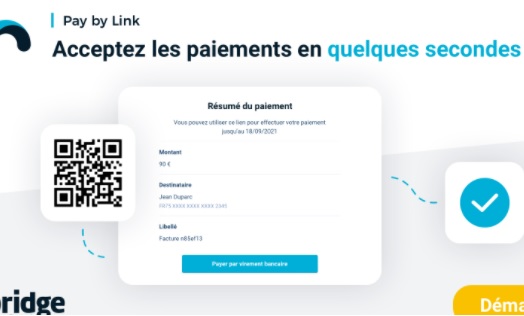 The Open Banking Bridge platform powered by Bankin' consolidates its position in the payment initiation market. To do so, it has opted for simplicity by allowing its customers to create payment links.
THE FACTS
Bridge by Bankin' has named its new service Pay by Link. This is a simple and straightforward way to launch its new payment service.

Pay by Link is presented as a turnkey solution for companies. It should enable them to generate payment links to receive funds instantly.

User path :

the creation of a link can be done via the Dashboard Bridge or automatically by API,

The creditor only needs to enter the amount of the requested transfer, its expiration date, a payment reference and the name of his debtor/customer.

Final customer paths:

a creditor sends an invoice in a message to his debtor ;

this message contains a URL link or a QR code,

by clicking on this URL link or by flashing the QR code, the debtor is directly directed to a payment path (Bridge Pay)

he can then pay for his purchase by entering his bank details,

the IBAN of the beneficiary, the amount and the reference of the transfer are pre-filled, the debtor is invited to verify the information entered before initiating the payment.

Pay by Link is an omnichannel solution; it supports payment links via email, sms, chat or messaging.

The payment process is as streamlined as possible and integrates Open Banking's transfer technology.
CHALLENGES
Support the health of companies: According to the January-February 2020 Bulletin of the Banque de France, late payments by customers increase the probability of a company's failure by 25% to 40%. Pay by Link, as an irrevocable and instant payment method, offers an alternative to this risk.

Developing an all-in-one concept: Bridge has announced that its Pay by Link solution will be able to support Buy Now Pay Later purchases later on.

Complementing its offering: Bridge has established a leading position in Europe and currently has over 8 million bank accounts connected to its services on a daily basis. It now includes Pay by Link in its Bridge Pay range.

Contributing to the democratization of Request-to-Pay: Bridge emphasizes the low-code nature of Pay by Link, which the platform sees as a lightweight technology that will help to implement Request-to-Pay.
MARKET PERSPECTIVE
The ambitions of Bridge powered by Bankin' to become a reference in payment initiation and a driving force in the deployment of Request to Pay should not blind it to the fact that, despite the innovative and simple nature of its new solution, Pay by Link will have to contend with similar offerings on the market.

Square launched a payment link generator offer in the United States in May 2020, as did Revolut in the UK a few months later. Stripe recently followed the trend. In France, Adyen even uses the same name to present its service.