Payment
Check-out
United States
Apple officialise son service Tap to Pay sur iPhone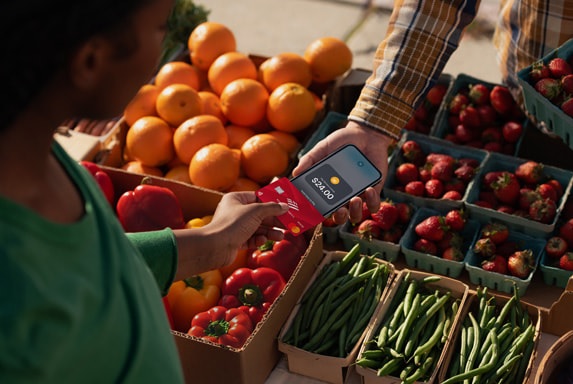 Apple has just made official a rumour that has been growing in recent weeks about the rollout of a Soft POS payment service on iPhones. US merchants will soon be able to accept Apple Pay and other contactless payments directly on iPhones and tablets that support a compatible iOS application. Far from the specialists, the Soft POS market is opening up a little more to the web giants.
FACTS
The new cashiering service introduced by Apple is called Tap to Pay. It will allow businesses to seamlessly and securely accept Apple Pay, contactless credit and debit cards and other digital wallets simply by using any iPhone (XS and above) with a dedicated app.

On the merchant side, merchants will be able to access this new contactless payment acceptance functionality via a compatible iOS app.

Apple has confirmed that it will support all EMV contactless payments, including Google Pay, so as more options become available, the familiar Square card reader dongles could start to disappear.

Customer journey:

At the checkout, the merchant will simply prompt customers to bring their Apple Pay payment device (iPhone or Apple Watch), contactless credit/debit card or other digital wallet close to their iPhone.

Payment will be made securely using NFC technology.

Tap to Pay on iPhone will also be rolled out to Apple Stores in the US later this year.
CHALLENGES
Continuing to diversify its smartphone: By dint of updates to its operating system and the introduction of new technologies into its terminal, the iPhone has gradually become a support for financial services (wallet, PFM). The addition of a cash functionality completes this diversification strategy for the Apple smartphone.

An alliance strategy: With Tap to Pay, Apple could have competed with companies like Stripe or Square on their own ground. Instead, the company has chosen to rely on partnerships to integrate Tap to Pay as a payment solution within their offers. Stripe is Apple's first partner; Shopify will join the list in the spring. The commercial and financial terms of these partnerships were not specified. Tap to Pay on the iPhone will be available to payment platforms and their developer partners in the form of a software development kit (SDK).
MARKET PERSPECTIVE
Apple Pay is already accepted at over 90% of US retailers.

In 2020, Apple bought a Canadian start-up called Mobeewave for $10 million. Its specialty: creating a software system that turns an NFC-enabled smartphone into a contactless payment terminal. The system was then used by Samsung since 2019.

The Korean manufacturer nevertheless managed to get a head start on its American competitor by announcing a partnership with MarketPay and Dejamobil last May to accept payments on NFC-compatible Samsung smartphones or tablets, and more widely on Android.