Allianz Crafts a Mobile Payment App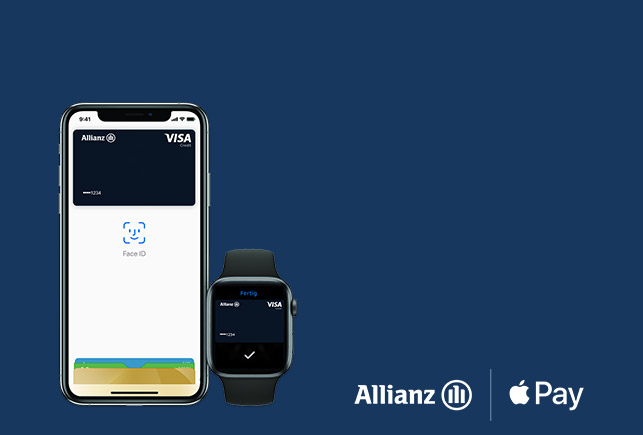 FACTS
The German insurance company Allianz introduces a mobile payment app called Pay&Protect.
Partners: Allianz built this app in partnership with Visa, Apple Pay and the German PSP Wirecard.
How it works?

Customers download the app and provide their bank information.
A virtual payment card is generated and stored to Apple Pay.
Customers can pay online and in-store via NFC, using Apple Pay.
Their transactions are validated via Touch ID, Face ID or PIN entry.

Allianz's wallet stands out as their customers enjoy native built-in protection, including an insurance service covering their means of payment and guarantees applied to online purchases.
Two versions of the app are available:

A light version features a prepaid Visa card for free and applies a €100/month limit on expenses. It may only be used in-store in Germany and does not include any insurance services.
A premium version features a credit card and is charged €1.25/month (available for free if customers spend over €5,000/year). A spending limit applies: up to €3,000/month depending on the user's creditworthiness. This card can be used to make purchases online and in-store anywhere in the world. Besides the associated insurance policy, this offer also packs in spend analysis and tracking features.
CHALLENGES
A competitive industry. Allianz enters a highly coveted market: several m-payment wallets have already been launched in Germany. According to a study released in March by PWC, nearly 25% of the consumers in Germany relied on a mobile payment solution in 2018. Yet, security issues still prevent these solutions from becoming widespread. As an insurance group, Allianz hopes they can stand out while benefiting from Apple Pay's reach.
A tool for securing customer loyalty. This wallet is a means for them to secure their customers' loyalty, and be provided a means to improve their KYC based on following-up mobile use cases. With this solution, Allianz would intend to have a stronger impact on their customers' daily lives.
MARKET PERSPECTIVE
Over a year ago, Allianz started testing the payment and loyalty app, Allianz Prime. This solution is now available in Germany. Other countries may follow later on this year.
Apple Pay already relies on several issuing partners in Germany, including Boon (making all payment cards compatible with Apple Pay); Allianz joins the bandwagon.