WhatsApp Launches Beta P2P Payment Service in India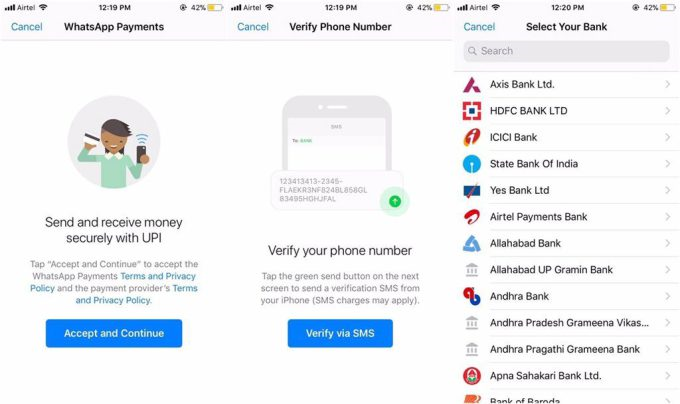 This Facebook subsidiary is testing a new P2P payment feature for their messaging app. Through this program, currently in Beta, WhatsApp aims to enter the promising Indian market for paperless payments.
A screenshot leaked recently and seems to support the idea that the instant messaging company is testing a money transfer service with a limited number of users. This feature would make it possible to organise online money pools, send money or pay back friends. WhatsApp would have been granted authorisation by the Indian government to run this test phase; their money transfer service would rely on the Indian Unified Payments Interface (UPI).
The user has to confirm his identity via SMS to enable this feature. He then chooses his bank in the list available institutions in-app. WhatsApp would already be supported by several Indian banks, including ICICI Bank, State Bank of India, Axis Bank and HDFC Bank.
The new feature would first be proposed in India only, but other markets could be considered.
Comments – Tough competition on a crowded market
Nearly two years after they introduced their instant messaging-based P2P money transfer service via Messenger, Facebook now relies on WhatsApp to focus on this feature once more. The group is spreading their payment services across different apps so they can reach as far as possible.
Their choosing India is also strategic: the local e-payment market has been growing fast since the demonetisation was announced, and a new era for mobile payments and cashless transactions came to be. Also, this social messaging platform is especially popular in India, with over 200 million users. This considered, it could then lead the local P2P payment market.
Yet, this US-born player has to perform in an increasingly competitive context. Another US giant entered the Indian payment market recently, too: in September 2017, Google introduced an especially crafted mobile app, Tez, enabling its users to make cashless transactions. Tez reported roughly 12 million users in December 2017. And WhatsApp will face competition from the local company Paytm, or Tencent-backed messaging app Hike… not to mention multiple services already implemented by banking institutions.