WeChat Pay Values Data Analytics for Credit Scoring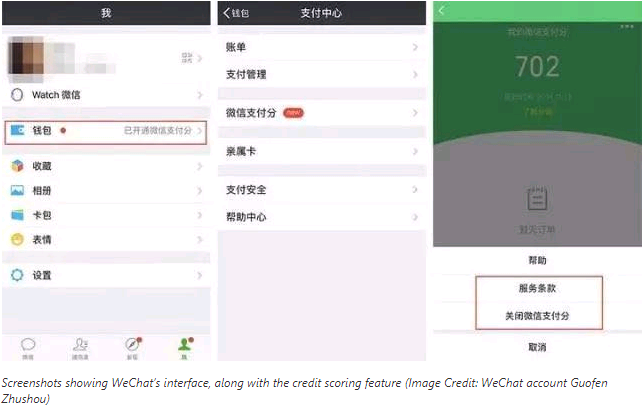 Photo credits: TechNode
FACTS
The Chinese telecom leader Tencent recently started testing WeChat Pay Points: a new scoring tool using data retrieved via their WeChat Pay payment service.
For now, this service is only tested in Beijing, Shanghai, Guangzhou and Shenzhen. It assesses the user's creditworthiness based on various criteria

His identity
His consumption habit: analysing his WeChat Pay purchasing history
His transaction history: analysing his WeChat Pay transactions

This feature also scrutinises the customer's interactions on social media, and it links with WeChat's mini-programs, too.
The users with high scores can be rewarded with perks such as favourable credit rates, waiving of deposits on rental services or hotel bookings.
CHALLENGES
Enabling customers with no credit history to access to credit offers using data processed through Tencent's social platform.
Helping companies bring down risk levels based on an alternative scoring tool.
Valuing huge amounts of user data retrieved through Tencent.
MARKET PERSPECTIVE
As they still face competition from Ant Financial in China, WeChat Pay Points stands out as Tencent's response to Sesame Credit, where very similar criteria are used to rate customers on a scale from 350 to 950.
This new feature was introduced at their WeChat Open Class PRO event in January. Tencent aims to attract more than one billion Chinese customers by the end of 2019.
This commitment from Chinese Tech giants is in line with local authorities' intent to implement a system where governmental organisations share information as to their citizens' creditworthiness, and may impose penalties based on assigned "social score".
The point is to improve customers' access to credit offers in the country, beyond the 300 million people already addressed.
In 2015, People's Bank of China allowed 8 private companies –including Alibaba, Tencent and JD.com– to craft their own (private) credit rating platforms. Tencent arrives rather late on this market, as they launched WeChat Pay at a later point, and the data processed through this service is key to this scoring tool.