Marketing
Russian Federation
Tinkoff integrates Spotify into its Super-App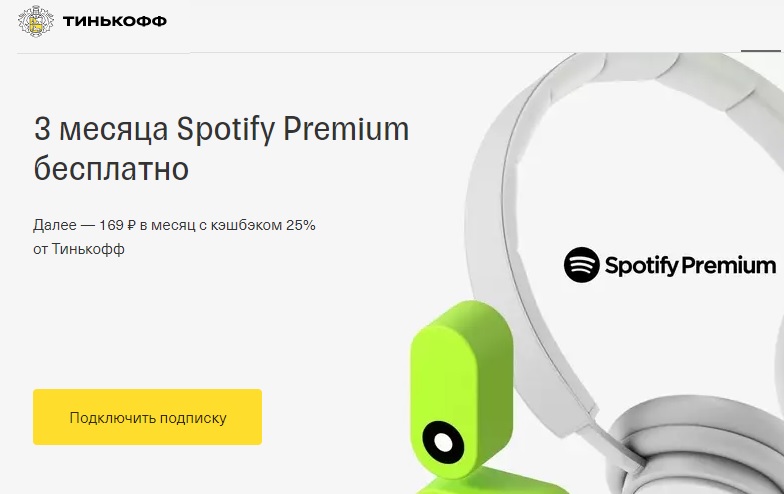 To further diversify its extra-financial services, the Russian bank Tinkoff has just announced its partnership with Spotify. The reference of music streaming should boost the super-app less and less banking. This partnership translates into a cash-back offer and the securing of recurring payments.
THE FACTS
Tinkoff customers will now be able to subscribe and set up automatic payments for the music streaming service via the Tinkoff super app or on Tinkoff.ru.
But the Russian bank's partnership with Spotify also comes in the form of a financial benefit. Tinkoff is offering up to 25% cashback on Spotify subscription payments made by customers of its Tinkoff Pro or Premium offers (5% for its other customers).
The offer is currently valid for all Spotify Premium subscriptions registered before December 31, 2021.
Price: 3 months free then 169 rubles per month (about 2 euros).
CHALLENGES
Boosting the super-app: Tinkoff is getting an internationally renowned partner and consequently, great media coverage for its super-app. At the same time, the super-app gains a new and unique added-value functionality. After those of social networks and lifestyle (ticketing, commerce, restaurant, etc.).
Another vision of integrated banking: By integrating Spotify, Tinkoff demonstrates the value of combining financial and non-financial services. Users of its super-app will not need to link their payment card to their streaming account, nor will they have to follow any steps to subscribe and pay for their subscription. The process is fully automated and secured by the bank itself.
MARKET PERSPECTIVE
Tinkoff's Super-App today only serves as a gateway to the Spotify service. It does not provide direct access to Spotify's library of more than 70 million tracks and nearly 2 million podcasts.
The initiative therefore also illustrates the limitations of this super-banking app and its promise of access to multiple services in one place.
Nevertheless, it allows the automation of subscription payments and thus offers a real financial service associated with a non-financial service, thus going beyond the simple marketing concept.