Prepaid Card
Payment
France
Sustainable Mobility Package: Sodexo and Klaxit Lauch a Mobility-Dedicated Offer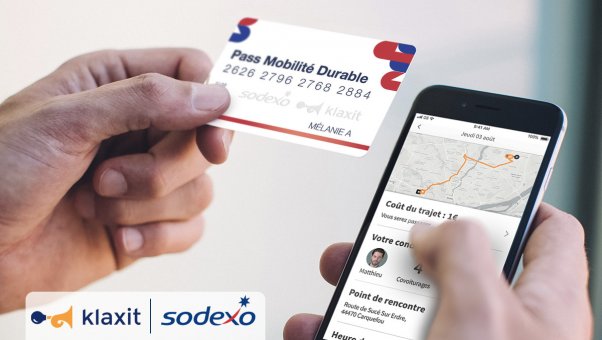 FACTS
As the "Forfait Mobilité Durable" was just adopted by the French National Assembly, in line with the new law on mobility-related perspectives (Loi d'orientation des mobilités – LOM), Klaxit and Sodexo introduced a "voucher" for mobility services.
Goals: Enable employees to pay for their car-sharing rides in compliance with new legal provisions.
This service already comes with €200/year spending limit per employee. It is expected to increase to €400/year per employee as of January 1st 2020, when the LOM will be effective.
How it works

The Pass Mobilité is a preloaded account with a companion card, allowing employees to pay for their car rides.
The Pass holder may add it to his payment methods in the Klaxit app, alongside his payment card.
The employer may track employees' expenses in real time through the dedicated online platform.
"Forfait Mobilité Durable"

Provision from the French law on mobility (LOM), enabling employers to bear the cost of home-to-work commutes on bikes, via car-sharing services or other shared mobility services.

Exemption from salary charges for transport-related expenses up to €400/year per employee.
CHALLENGES
Encouraging companies to use car-sharing services. Klaxit claims 200 client companies and over 300,000 journeys on their network. They also launched an insurance offer to ensure that their users also get a ride back home. Through these initiatives, the leading French car-sharing company for home-to-work journeys intends to encourage young employees to rely on their services.
Financial profit. Klaxit and Sodexo would want to assist companies through complying with the new mobility-dedicated regulation. The Pass Mobilité Durable would enable employers to save up to €106/year per employee (vs €400 in wage increase). Their employees' buying power would go up €485.
Global ambition. For Sodexo, the point would be to reach further from simplifying use cases or speeding up the uptake of car-sharing services. The group claims that this Pass is meant to be enhanced to provide employees with a means of payment for all mobility-related purchases. Other partners are then expected to accept this mobility "voucher".
MARKET PERSPECTIVE
A year ago, Sodexo launched their strategic venture capital funds, Sodexo Ventures, and acquired a minority stake in the start-up Klaxit, highlighting their interest in mobility-related services for employees.
The new card is described by the group as a first step towards entering the market for corporate sustainable mobility.