Study: A French plebiscite for the European digital portfolio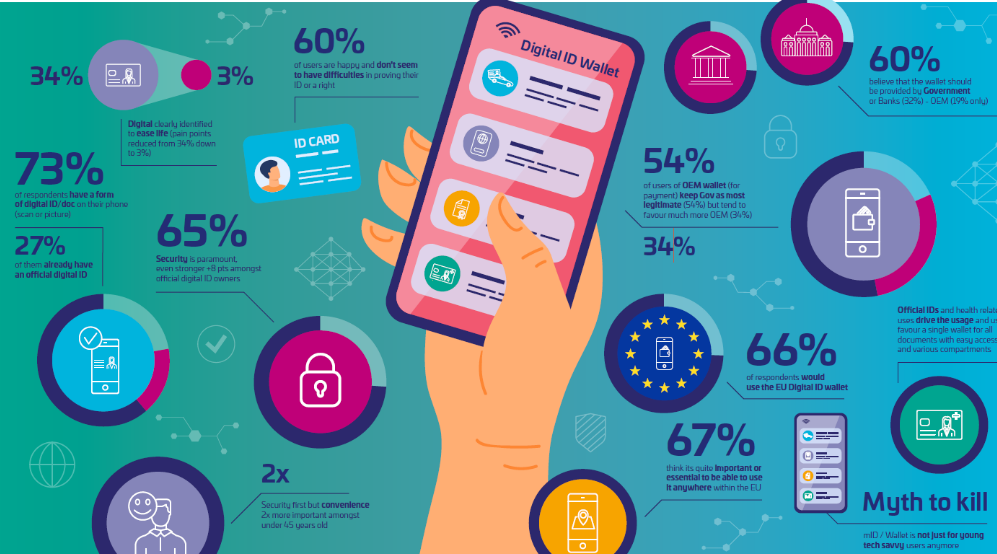 Thales has just published a study on the support for the future European digital wallet. 85% of French people said they were in favour of using this future device, which will allow them to identify themselves, exchange personal data with public authorities on their mobile and, incidentally, pay bills.
FACTS
The survey was conducted by Thales in December 2021, among 1,835 citizens in Belgium, Czech Republic, France, Germany, Italy, the Netherlands and Sweden.

The French and Italians were the most positive about the EU Digital ID Wallet (EDIW), with 85% and 75% respectively saying they would use it.

66% of respondents identified security as the most important priority, while 46% see it as a convenience and 31% as a privacy factor.

Just over 1 in 4 respondents already use an official national digital ID (27%); but just under half currently use only an unofficial scan or copy of an official physical document (45%).

In almost all the countries surveyed, the government is identified as the preferred provider.

In terms of UX, 34% of respondents currently have problems proving their identity when renewing an identity document, 30% have problems when making a high-value purchase and 29% have problems when applying for financial services.
CHALLENGES
A self-serving study: Thales is interested in Europeans' appetite for digital identity because it is itself a solution provider with Digital ID Wallet. "As a leader in digital security and a trusted provider of digital identities, Thales is committed to meeting these needs with proven wallet solutions," said Youzec Kurp, vice president of identity and biometrics solutions at Thales. However, the study has the merit of pointing out the priority use cases identified by users themselves.

Starting a technological and strategic race: The GAFAs are also betting big on the wallet, a new version of the super-app, which embeds numerous services (identity cards, health cards, digital car keys, etc.). Several of them have already positioned themselves, such as Apple, which now stores American driving licences in its Apple Pay wallet. The European authorities must face up to these attempts and position themselves in this strategic niche for European sovereignty. Cybersecurity and the protection of personal data must be at the heart of this future system, even if this requires additional time.
MARKET PERSPECTIVE
In June 2021, the European Union officially confirmed its intention to introduce a Europe-wide digital wallet that will allow all EU citizens to link their national digital identity with other personal attributes and store them on their mobile phone.

From the call for expressions of interest to identify a consortium of stakeholders, to the call for projects, the pace of this digital wallet project is fast.