Startup Market Pay launches contactless payment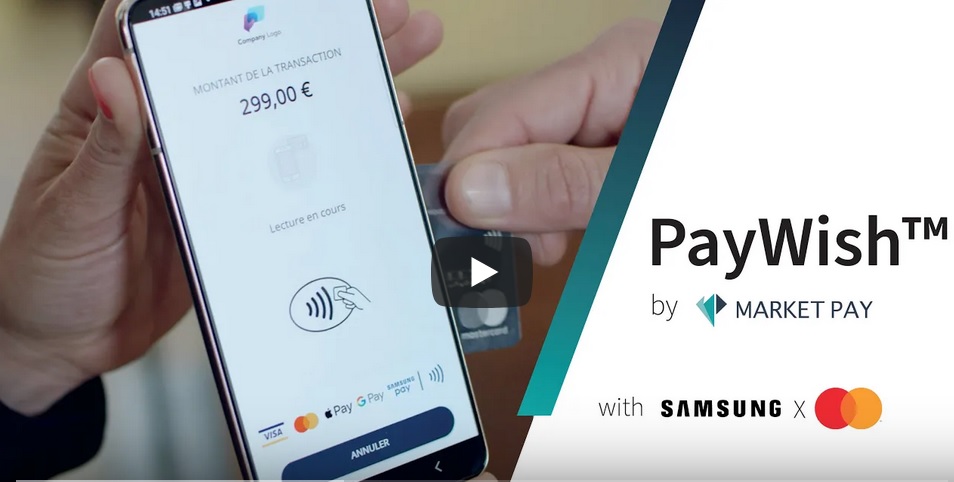 FACTS
Market Pay, a European and omnichannel payment platform, announces the launch of its PayWish™ contactless (NFC) payment solution, with support from Mastercard, Samsung and Dejamobile.
The solution targets all merchants, whatever their size, large groups, but also independant workers and micro-entrepreneurs. It will allow them to accept contactless payments of any amount on their NFC-enabled Samsung smartphones or tablets and Android devices more generally.
How does it work?

The merchant creates an account with Market Pay and downloads the application. The smartphone is automatically transformed into a payment terminal.
Customers can then pay contactless with their card, their digital wallet or any other device.
For any amount above €50, the customer only needs to approach jis card.
For an amount higher, the customer must enter its PIN code on the terminal. The customer can also pay with his smartphone.
The application also make it possible to send the payment receipt by email.
CHALLENGES
Support small, medium and large businesses by facilitating digital payments: This solution facilitates mobile payment experience, whether at the point of sale or outside (home delivery, nomadic sales, VTC...). This easy-to-use solution is affordable for the merchant as it does not require any additional specific hardware, and therefore it reduces costs. The objective for Market Pay is to attract small retailers or mobile workers such as gigs or freelancers with this solution based on a single support.
Responding to the evolution of usage: mobile sales experiences are democratized with the growth of click and collect, pop-up stores and sales corners, which reinforces the need to optimize the sales area. The annual growth rate of mobile payment systems is estimated to +20% until 2024. A trend that has only accelerated since the Covid crisis.
MARKET PERSPECTIVE
In-store, there is an opportunity to create new, even more fluid customer journeys: the merchant can guide the customer through the process of buying until the final checkout.
The application will keep improve with additional services, such as deposit management and refunds. The development  is done in collaboration with Samsung allowing to benefit from its technology to ensure an optimal customer experience and maximum security.