Blockchain
Players' Strategy
United States
Square Banking: the bank account that connects the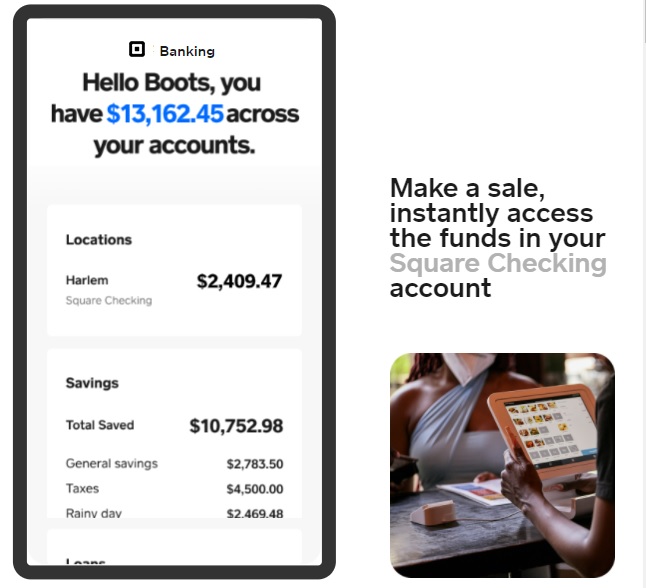 Payment acceptance giant Square has just made its bank account ambitions a reality. It is launching Square Banking and thus pursuing a very dynamic diversification.
FACTS
Square Banking is presented as a true financial services toolkit for small businesses.
It consists of three core products:

Square Checking, the FinTech's no-fee business checking account (offered in partnership with Sutton Bank), linked to the Square Card debit card. Among other things, it will enable check cashing via the Square Point of Sale app. The account also allows direct access to funds collected via Square tools, as well as transfers and other vendor payments.
Square Savings, which allows you to create cash reserves through an automated savings tool that invests a percentage of each cash receipt made through Square. It also allows the creation of sub-accounts associated with specific objectives (payment of expenses or purchase of equipment for example). The rate of return on Square Savings is fixed at 0.5%.
Square Loans, formerly Square Capital, Square's new credit offering, which is offered to Square's small business customers on a personalized basis, based on the amounts collected through their Square tools. The repayment system of these loans is based on a model of taking a fraction of the turnover made by the company.
The offering is supported by Square Financial Services, the entity specifically created by Square to obtain FDIC (Federal Deposit Insurance Corporation) approval and manage banking activities.
CHALLENGES
Realizing a long-standing investment: Square has been working on launching its bank account service for years now. The FinTech won a first battle in March 2020 by obtaining its banking status in the United States. Building on the knowledge they gained about the businesses they were serving, Square is now in a position to leverage its operational relationships in financial relationships, i.e. banking and lending.
Offering a complete financial services platform: More than a bank account, the new service represents an extension of Square's existing B2B offering. Combined with the FinTech's existing collection solutions, Square Banking therefore represents a complete cash flow management solution for businesses within a closed loop.
MARKET PERSPECTIVE
The launch of Square Banking is not a surprise in the sense that the FinTech did not hide its ambitions after obtaining its accreditation last March.
However, this official announcement represents a strong concretization of Square's rampant diversification strategy over the last few months, especially in the crypto field with the launch of a physical wallet, but also in terms of geographical expansion, since Square tackled a new continent last May, Europe, and has just made its entry into the French market official.
Square is making good moves in the small business space, but the competition is strong - PayPal and Shopify are making big investments in building their merchant services suite.