Société Générale Unveils a Cashback Programme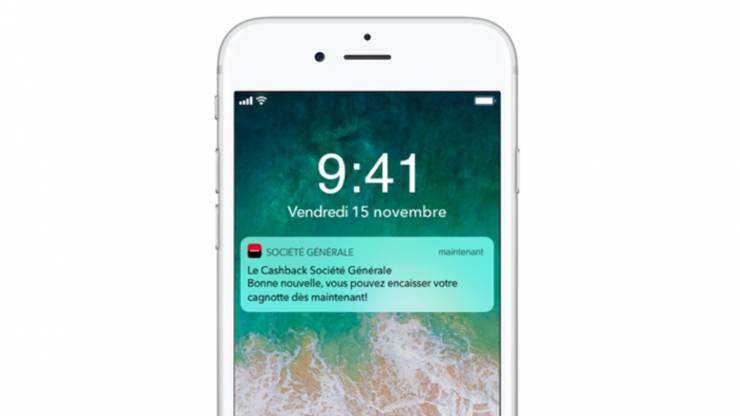 FACTS
Société Générale teams up with the FinTech CDLK on launching an omnichannel cashback solution for card-based transactions.
Goals: add a differentiating service, stand out from competition.
CDLK was launched in 2013. They crafted an IT platform converting transactional data into service-based benefits for banks.
Le Cashback Société Générale provides customers with rewards and secures their loyalty sending them refund when they make card-based purchases. This new service is fully automated and relies on a software solution by CDLK.
How it works

Customers sign up via the bank's website or mobile app
They may then pay their purchases by card without having to show coupons or promotional vouchers
They automatically get refunds (in euro) sent to a money pot available for consultation from a secure portal for checking their balance.
Once €20 stored to this money pot, the amount can be credited to the customer's account.
They may get up to €100/year.

Several partnerships have been implemented with brick-and-mortar merchants including the car rental company Sixt (12% refund), home furnishings retail chain Conforama (6%) and shoes brand André (10%).
This non-binding service is available for free to all Société Générale customers. In this case, featured offers are the same for regular and upmarket cardholders.
CHALLENGES
Withstanding competition from alternative payment methods. Cashback Société Générale is in line with the bank's overall strategy as they intend to enhance their Card-Linked services. The point would be prompt customers into using their payment card for everyday purchases despite the increasing number of alternative solutions.
Payment cards enhanced with additional services. Besides their cashback offer, Société générale lets customers customise their card based on their tastes. They may also secure their transactions using dynamic CVxs (a successful option so far). And Pass Sécurité is available for authenticating online card-based transaction without resorting to SMS OTPs (noncompliant with PSD2 requirements).
CDLK intends to process 1 billion transactions each year, and attract roughly 10,000 points of sale in 2020.
MARKET PERSPECTIVE
In April 2018, Société Générale launched a cashback programme under the brand name "Grande Avenue'. This service was only limited to e-commerce transactions. The new option, rolled out in partnership with CDLK, is relevant for in-store and in-app payments, as well.