Société Générale Introduces Selfie-Based Account Opening Process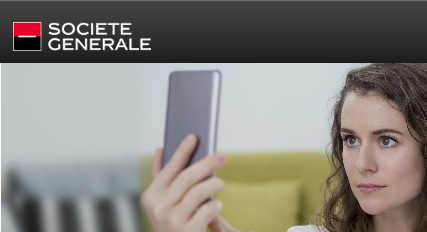 Biometrics keeps gaining momentum in financial sectors. Société Générale has now adopted it to streamline their account opening procedures. Their process relies on a dynamic selfie along with a video conference feature to meet KYC requirements and proposes a user-friendly experience (as FinTech players and neo-banks already do).
Société Générale makes it easier for future customers to open an account remotely via relying on a dynamic selfie for identification (several pictures are shot from different angles). The customer is prompted to apply using the bank's mobile app; there, he specifies his personal information. He then chooses the offer he wants to subscribe and a branch. Pictures of his supporting documents need to be sent: two identity documents, a proof of residence and a proof of income.
His dynamic selfie is compared with the pictures shown on these documents. His identity can be verified one first time and, yet again, when he attends a video conference appointment with an advisor. This advisor is also in charge of describing the offer's main features. The opening process is eventually validated using the customer's digital signature.
Société Générale currently reports that remote procedures account for 10% of all their account openings (all channels considered). With this new service, they expect remote account openings to exceed 30% by 2020. Idemia has been selected as a technical partner.
Comments – One more step for French banks
FinTechs' successful mobile offers played a huge part in supporting the idea that remote accesses of this sort are, indeed, meeting expectations. These innovative services also helped speed up biometrics implementation in the financial sector.
Société Générale bets this trend as they are unveiling a (for now) one-of-a-kind initiative from a long-standing institution. This process makes it possible for them to stress another major argument: avoiding that new customers should transfer an initial amount from another bank account upon subscribing. Face biometrics-based verification is there used instead of this condition. Société Générale can then aim for unbanked customers, as well (or roughly half of their remote account opening procedures).
In France, this institution is starting to match new account opening processes praised by FinTechs, such as N26, for instance. In this case, the customer's identity is verified via face biometrics during a video conference appointment (IDnow acts as a technical partner). Other traditional banking players are considering this approach: Crédit Mutuel Arkéa, for example, proposes a relatively similar service, but still needs to be granted CNIL approval to add video conference appointments.