Payment
Distribution Channel – Mobile
France
Samsung Pay Lands in France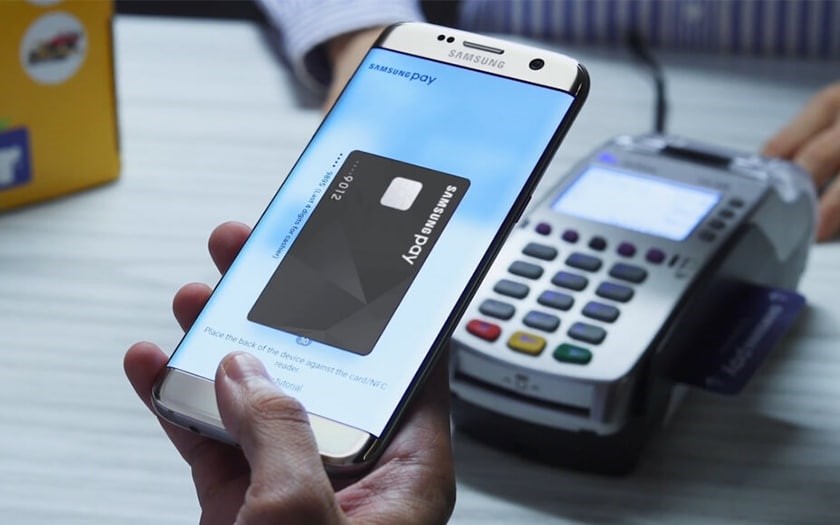 After having been delayed a number of times, when introducing their Galaxy S9 the leading smartphone maker Samsung also announced that their contactless m-payment solution Samsung Pay will be rolled out in France before this summer. A way for the m-payment market to eventually take-off in France?
Samsung France unveiled a list of initial partners: BPCE, Visa, Mastercard and Edenred (however they already are supporting Apple Pay). Samsung also claims that more institutions are expected to join soon.
The user takes pictures of his payment and loyalty cards to add them to his wallet. The app identifies the cards and the confirmation step relies on a validation code. When making a payment, the user swipes his smartphone screen upwards to open the app. Then he just has to hold his phone next to the payment terminal. His transaction is validated via fingerprints, iris recognition or PIN entry. Samsung Pay does not apply the 30 euros limit on contactless transactions since a strong authentication process is in place.
This service will be available using Galaxy S9, S8, S7, Note 8 and A9, as well as from the Galaxy Gear S2 and S3 smartwatches. Smartphone owners will be informed when the service goes live via push notification. The South Korean company hopes to attract 500 million users worldwide by 2021.
Comments – Samsung fuels the wallet war in France
Several studies have shown that French people were not particularly interested in using their mobile phone in payment contexts. A survey conducted by Visa (Digital Payment Study) reports that only 35% of interrogated French consumers say they trust these devices to make transactions, compared to 48% in EU-wide.
However, Samsung Pay may benefit from the current growth of contactless payments in France and improvements in terms of in-store NFC compatibility (from 10% to 40% in less than one year). The issue raised by equipment rates have then almost been overcome. The other issue, i.e.: use rates still needs to be solved. Yet, Samsung Pay will land on a market where a certain level of maturity has already been reached, owed to Apple's efforts on rolling out Apple Pay. This could then be a winning bet likely to drive up use rates. Their main rival has been present in France since July 2016, and now has many partners, however, not all the banks have joined. Samsung Pay will also be facing competition from local wallets such as Paylib, Lyf Pay, Lydia or even Carrefour Pay. Besides payments and loyalty features, they plan to enhance their offer through additional services, including ticketing, for instance.