Savings Products
Investment
United States
Robinhood's new card combines cashback and investment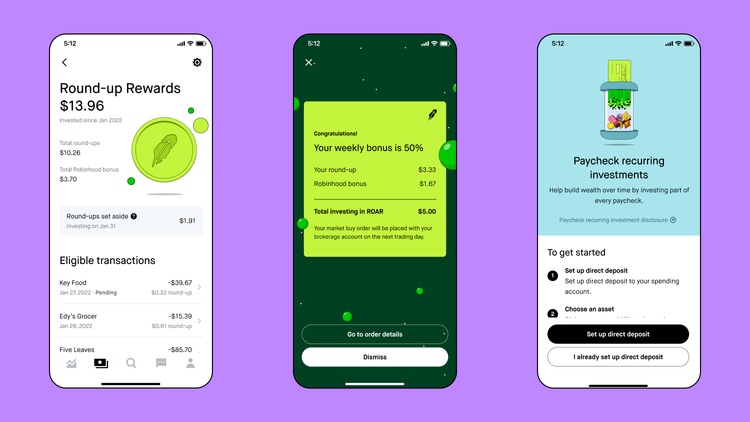 The American FinTech Robinhood has just presented a new version of its debit card. Called Cash Card, it is based on an innovative concept: that of associating an automatic investment tool with spending.
FACTS
Robinhood's new Cash Card is particularly aimed at the younger generation and those who are not familiar with the stock market and investments.

With its new card, Robinhood aims to make investing almost transparent and painless. Purchases made with the card will generate rewards (in the form of a weekly cashback capped at $10) and rounding up to the nearest dollar.

The money generated can be invested in different assets, depending on the choice of the Cash Card holder.

A waiting list is currently open to subscribe to this card and the affiliated account (different from investment accounts). The offer should be officially launched soon.
CHALLENGES
Opening an existing concept: Many cards already allow their users, via the rounding concept, to place small amounts in a savings account or to make donations automatically. Robinhood adapts this concept to stock market investing.

Democratising investment: Robinhood's Cash Card allows for the automation of investments and represents in this sense a new tool for democratising investment and making this process almost invisible. Robinhood presents its Cash Card as a way to introduce investment to many future non-initiates. The FinTech will also complete its services with a future salary advance solution and a module allowing to automatically invest part of one's salary.
MARKET PERSPECTIVE
Starting from an online brokerage application, Robinhood had initiated a strategic shift towards banking activities by ensuring the launch of a deposit account and a first payment card in 2019.

Since then, Robinhood has raised several rounds of funding and secured its IPO. The broker now intends to pursue its vast ambitions in terms of diversifying its offer. In addition to its neo-banking activity, which is now more closely linked to its stock market brokerage activities, the FinTech also launched a wallet dedicated to crypto-currencies last October to position itself on this future market.