REX: Speedy and Cofidis Featuring Instalments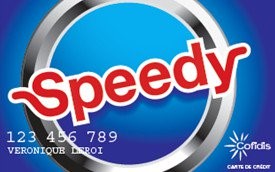 FACTS
The car maintenance specialist Speedy partnered with Cofidis several years ago on featuring instalments.
When facing unplanned and costly car repairs, customers can rely on 3, 5 or 10 instalments, and subscribe directly from Speedy.
Eligible customers must hold a Speedy loyalty card (an offer reshaped in 2016).
Supporting documents include: 

A valid e-mail address
A valid proof of ID
A banking statement (RIB)
€449: average cost of car maintenance in France for 2018. This figure is expected to increase by 4% by 2025.
Source: CNPA
CHALLENGES
Asserting customers' loyalty. With these instalments, Speedy first aims to meet customers' needs (they claim 96% customer satisfaction level). Recurring purchases appear to have increased two-fold: this payment facility does stand out as a driver for improving customer loyalty.
Their loyalty card also comes with additional services (0 km assistance, discounts, Total Wash card, etc.).
Increased revenue for the brand. Even since their Speedy card was launched, the average cart amount increased significantly (by 2.5%).
MARKET PERSPECTIVE
When launching their card offer, Speedy stood out on the car maintenance market –which is also impacted by today's digital transformation. Even so, Speedy reports encouraging deployment results for their card. Beyond the selected format, the very nature of its companion value-added services (in this case, instalments) is key to ensuring customer loyalty and high customer satisfaction levels.
Norauto, for instance, introduced similar payment facilities in partnership with Oney (splitting transactions in 3 or 4 instalments interest-free, or credit options).
Over the past years, payment facilities became a must have for most e-merchants, considering their impact on average cart amounts.
Speedy has been elected best customer service 5 years in a row.
37% of the customers would delay their purchases or drop their cart if no interest-free instalments (splitting payments in 4 terms) are among options.
¾ of the customers deem that payment facilities would convince them to buy more often.
Source: Cofidis